Our Primary Ethic
Urban Infill & Adaptive Reuse
ULI carefully selects architects and designers based on the nature of each project. Architecture and interior finish concepts are also developed with existing architecture, neighboring architecture and the urban fabric in mind. ULI is committed to designing and building projects that add vitality and interest to the communities and neighborhoods we're a part of. Whenever possible we create first floor retail opportunities to enhance the pedestrian experience. We believe in pushing parking underground in order to maximize street level activity.
Additionally, Urban Land Interests is wholly committed to sustainability. Our primary ethic is the adaptive reuse of existing buildings and in focusing solely on urban infill development. Through its adaptive reuse projects, the company has converted acres of urban land from concrete and asphalt to natural landscape, while at the same time creating more intensive use of existing space, strengthening the tax base and the urban fabric. ULI was the first in Madison to use a geothermal heating system for an apartment project, the first to use heat pumps in office buildings, and in 1999 delivered the first roof top gardens on the Capitol Square at Block 89. We are most proud of our recent work to reestablish U.S. Bank Plaza as the premier building on the Capitol Square which after the 3 year renovation is the first existing building in Dane County to be retro-fitted to LEED-EB Gold standards.
Stories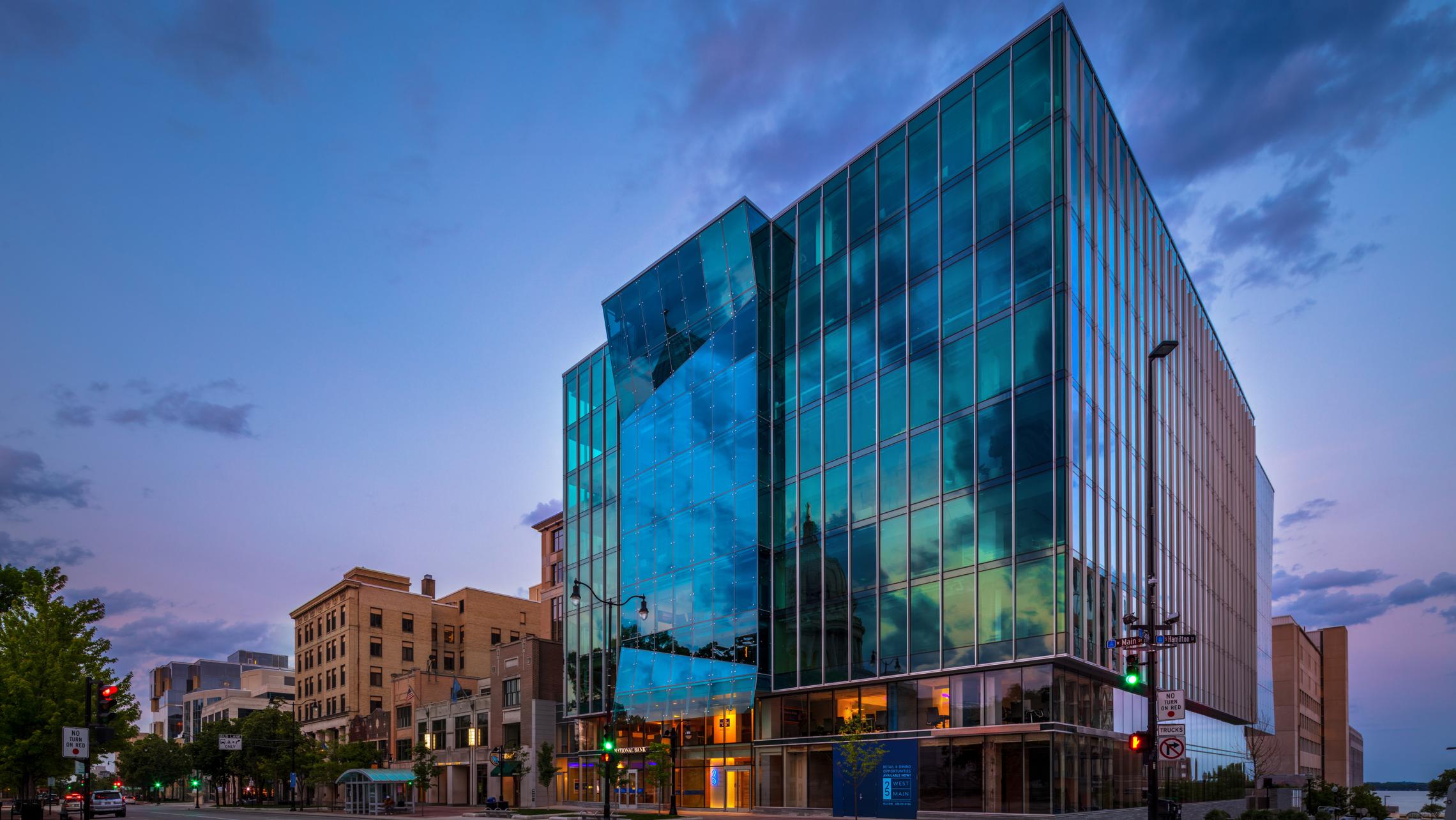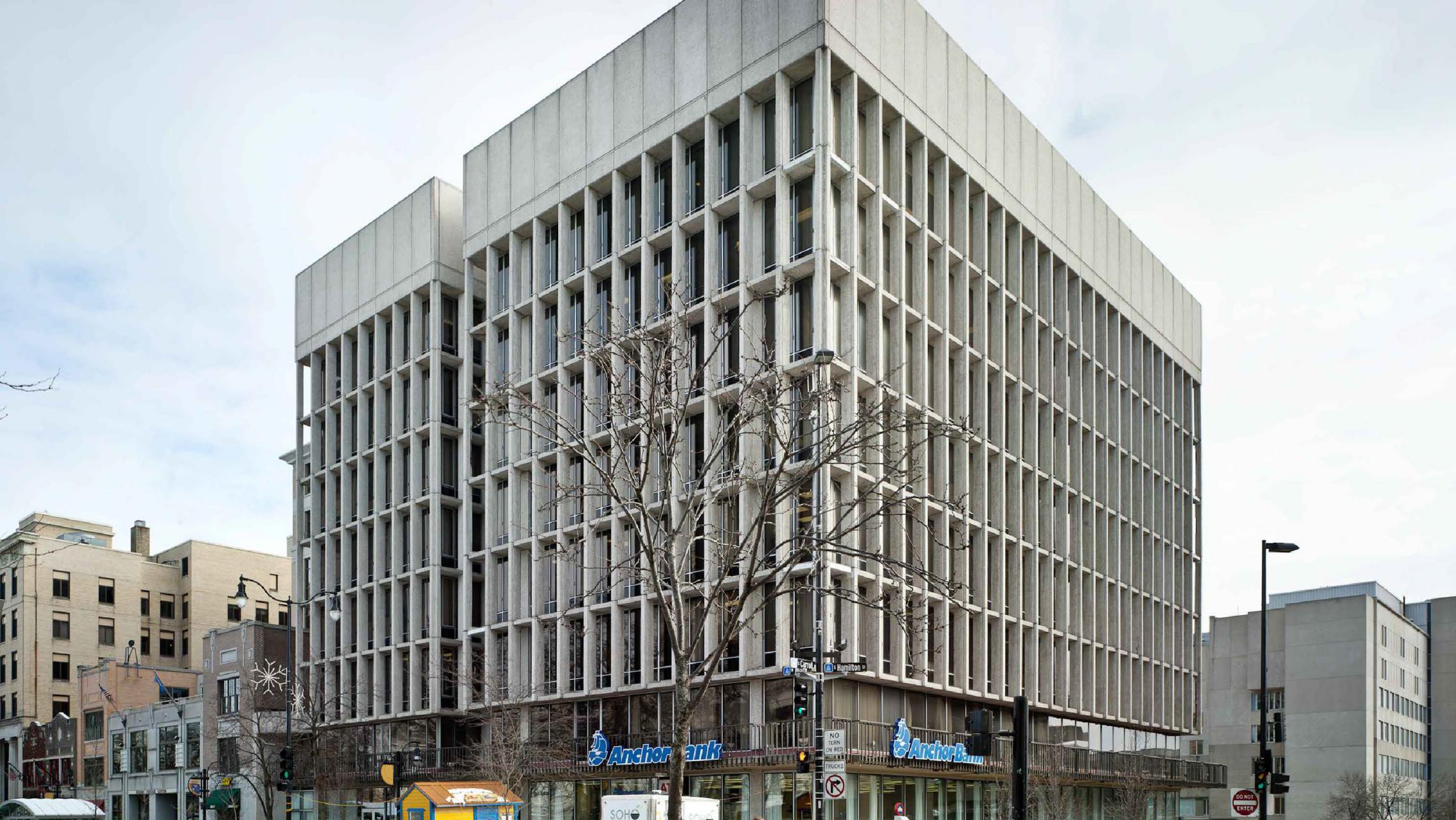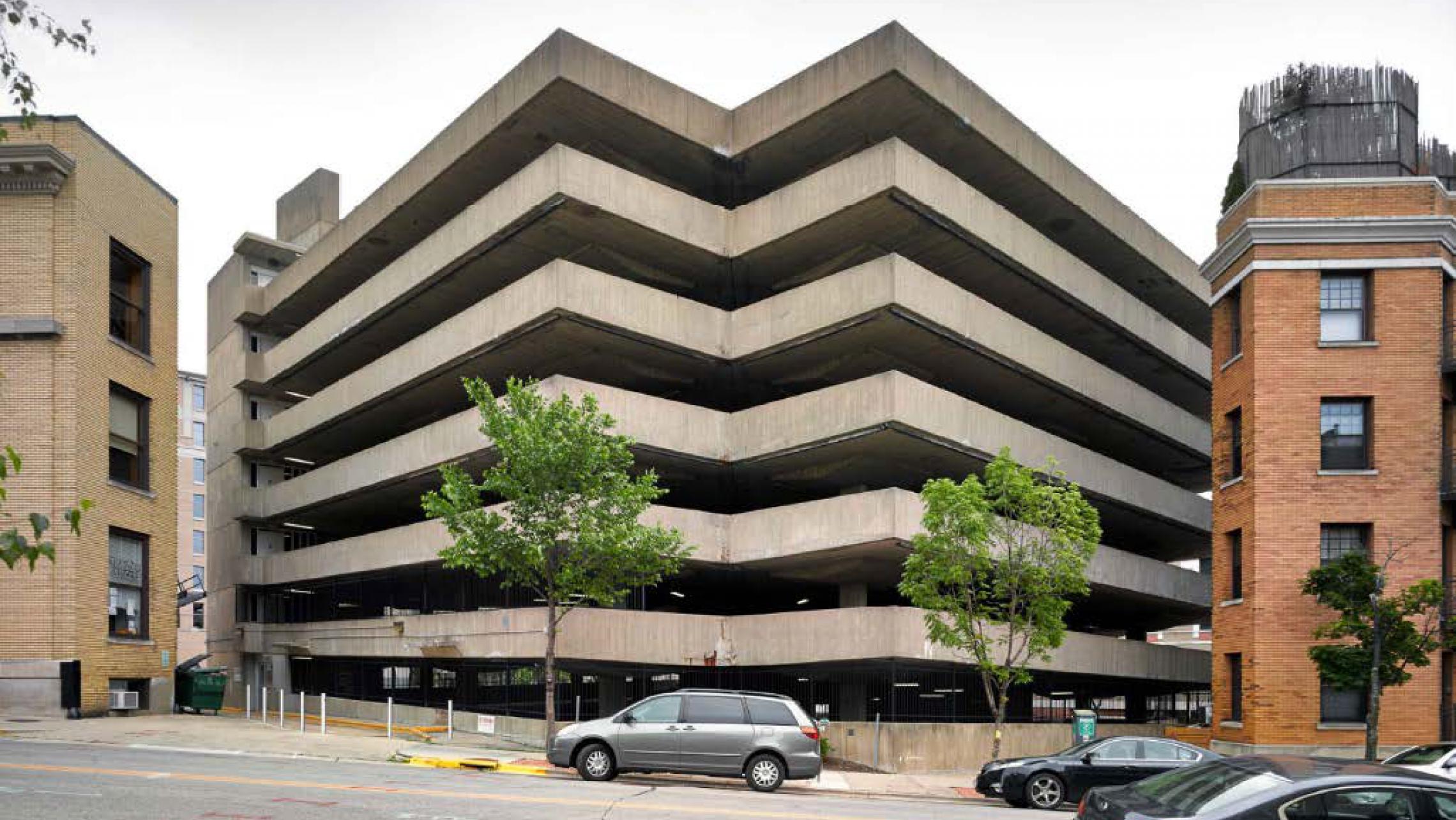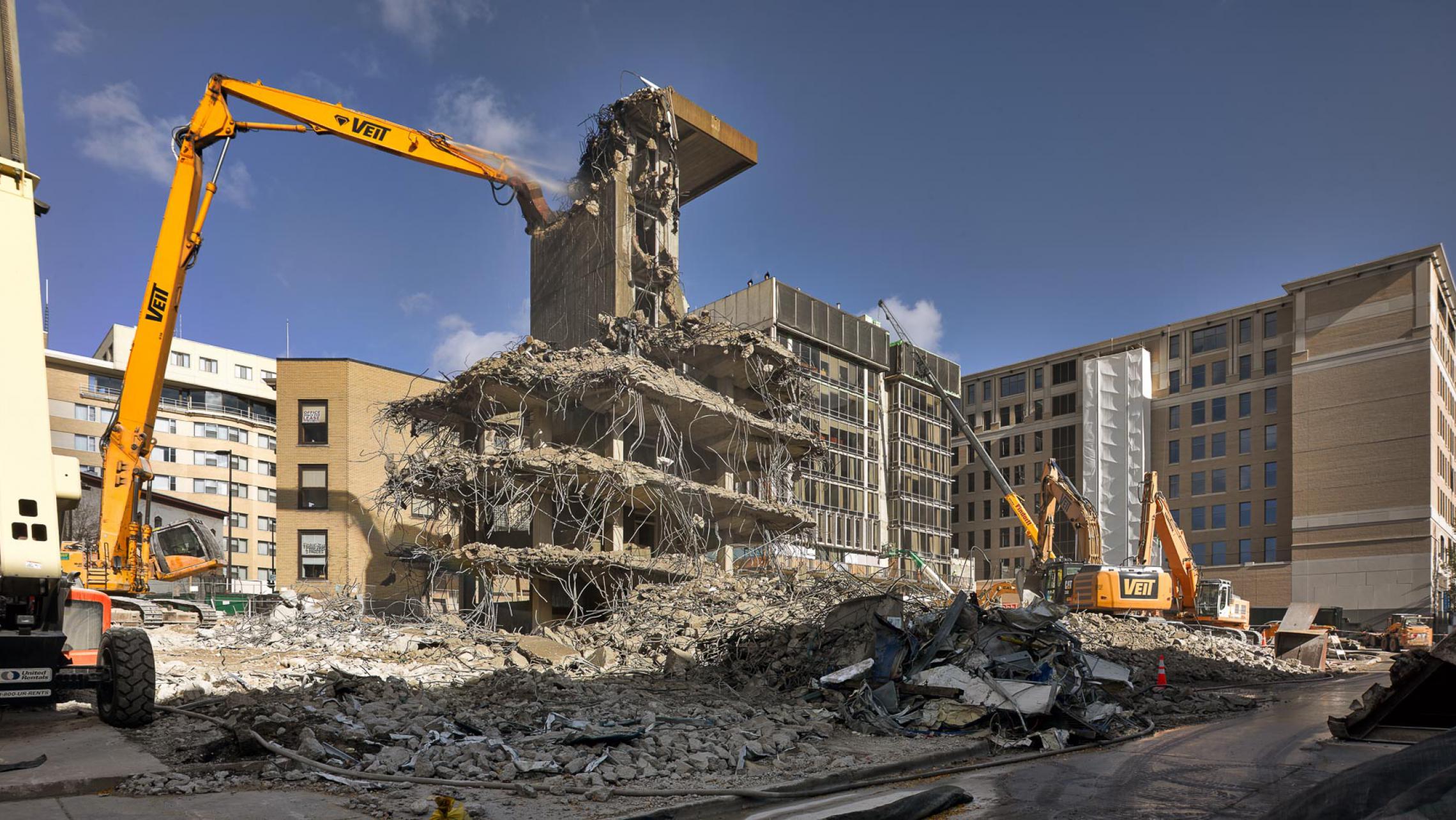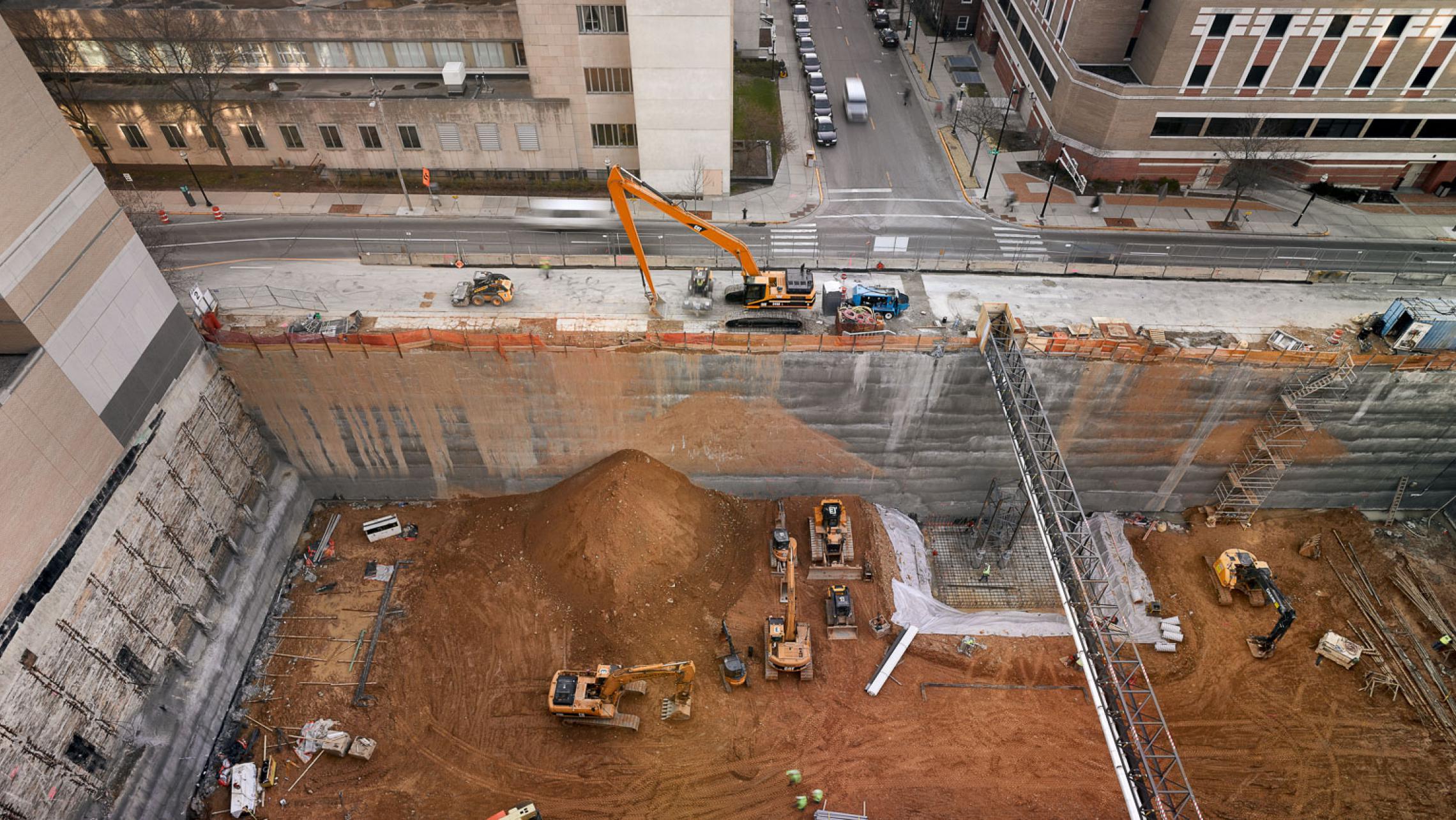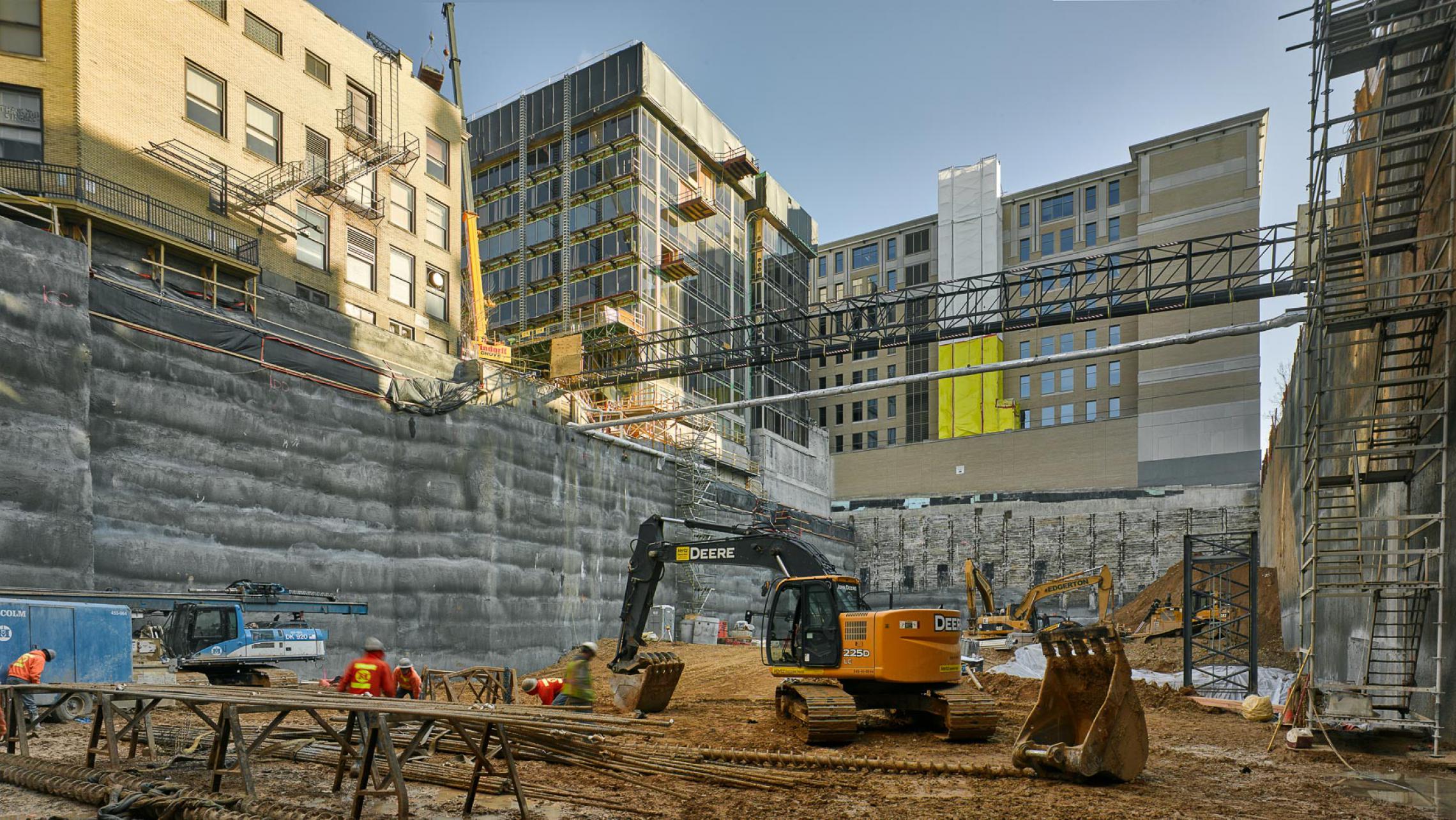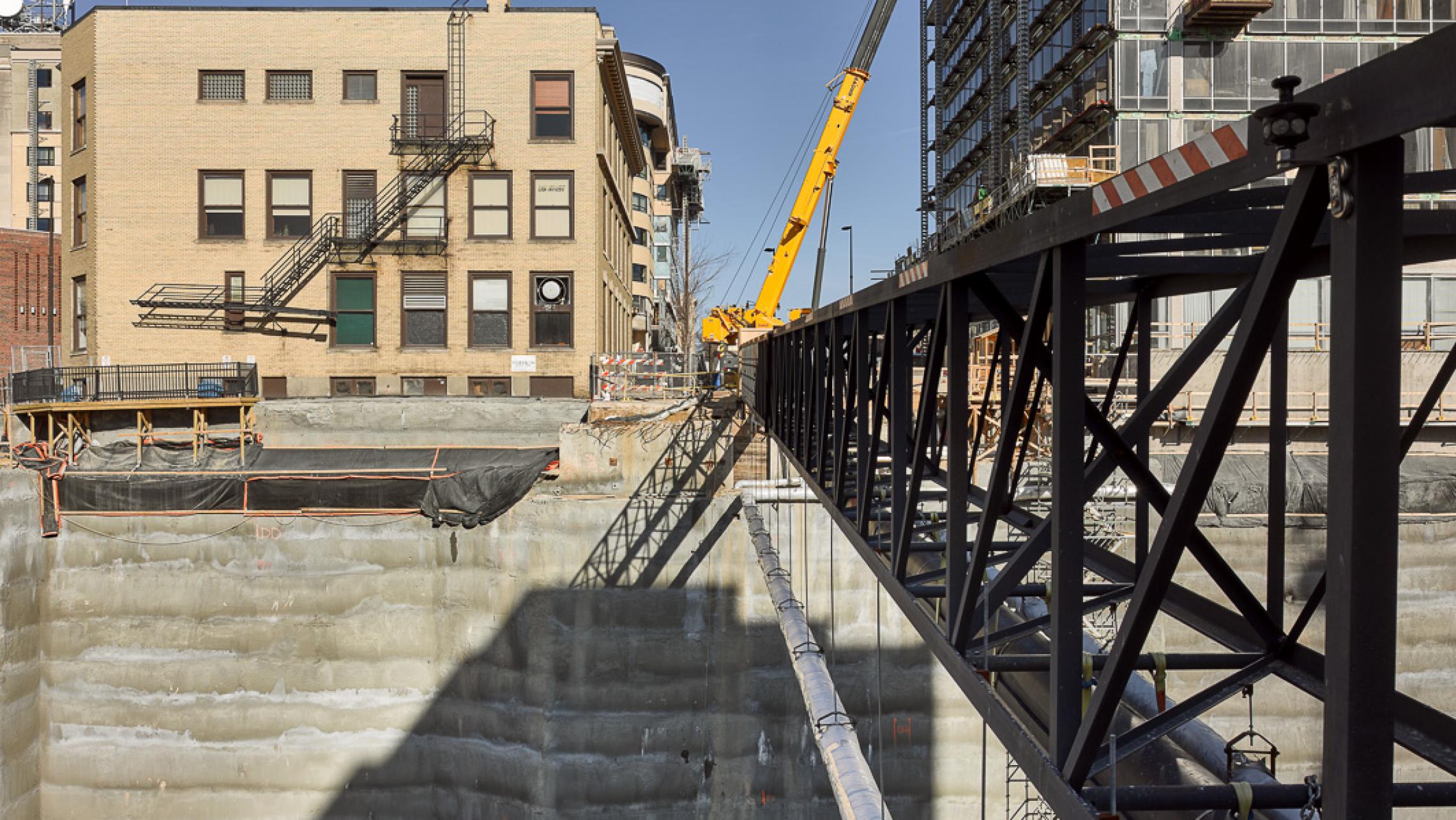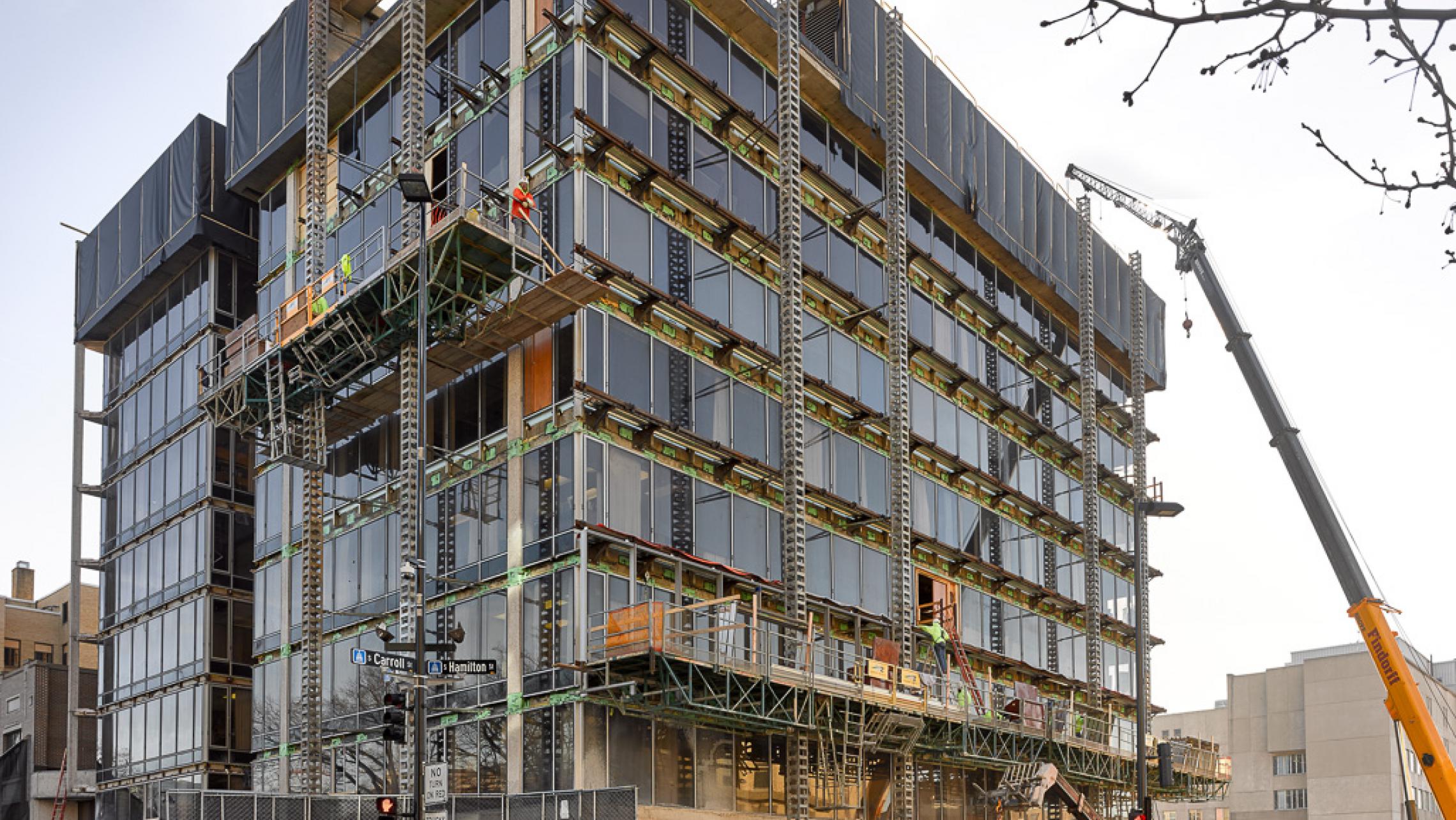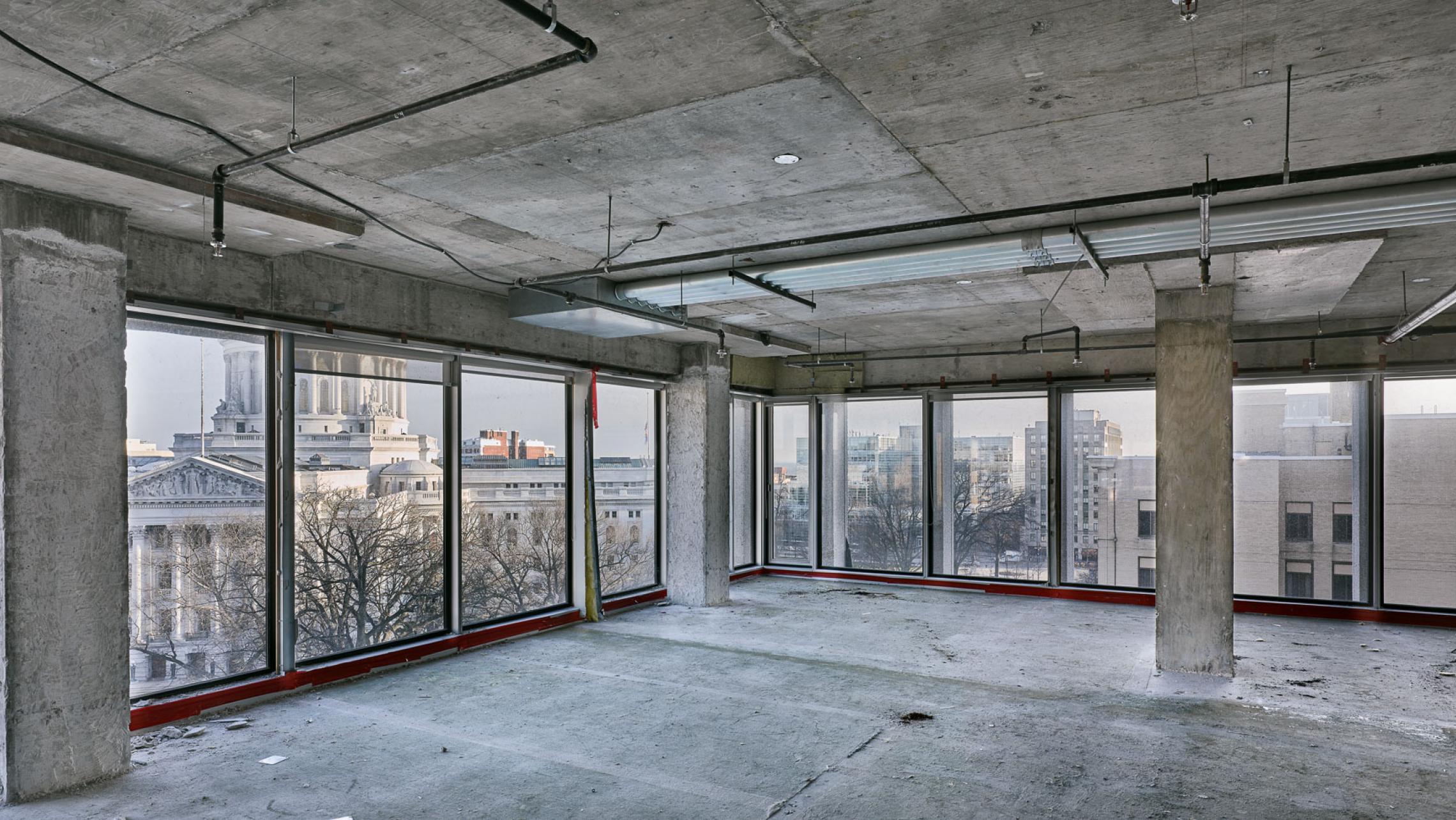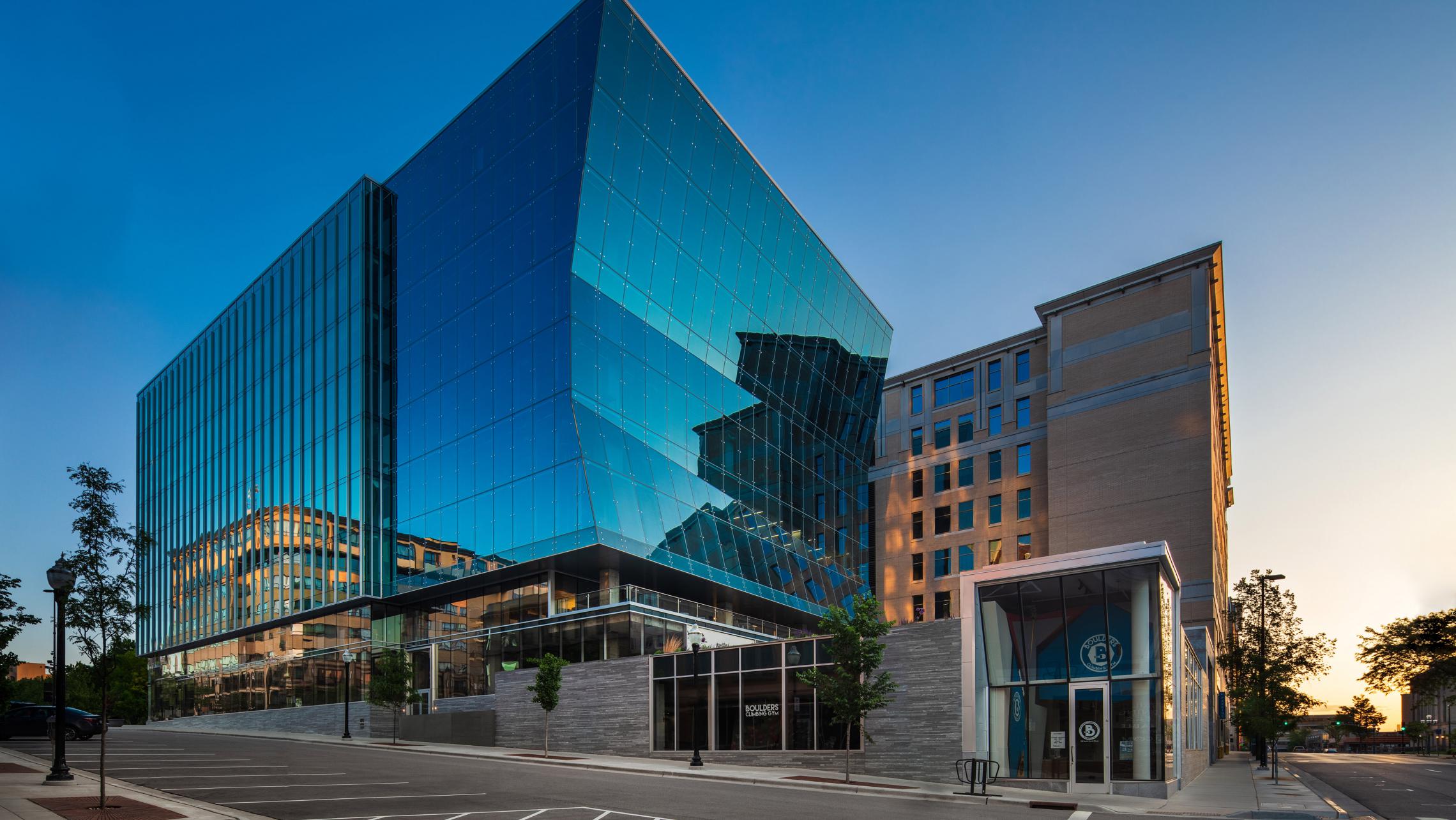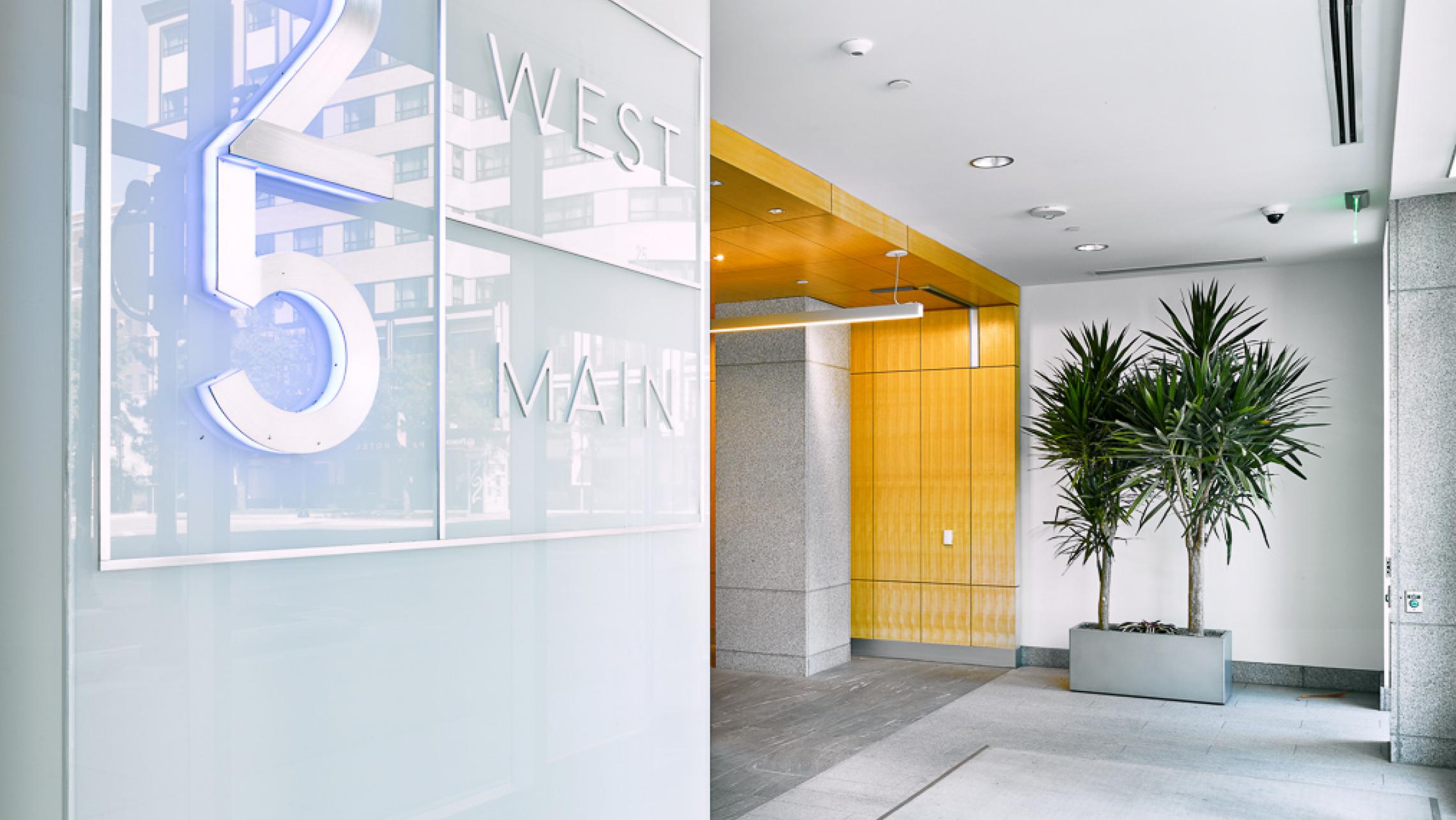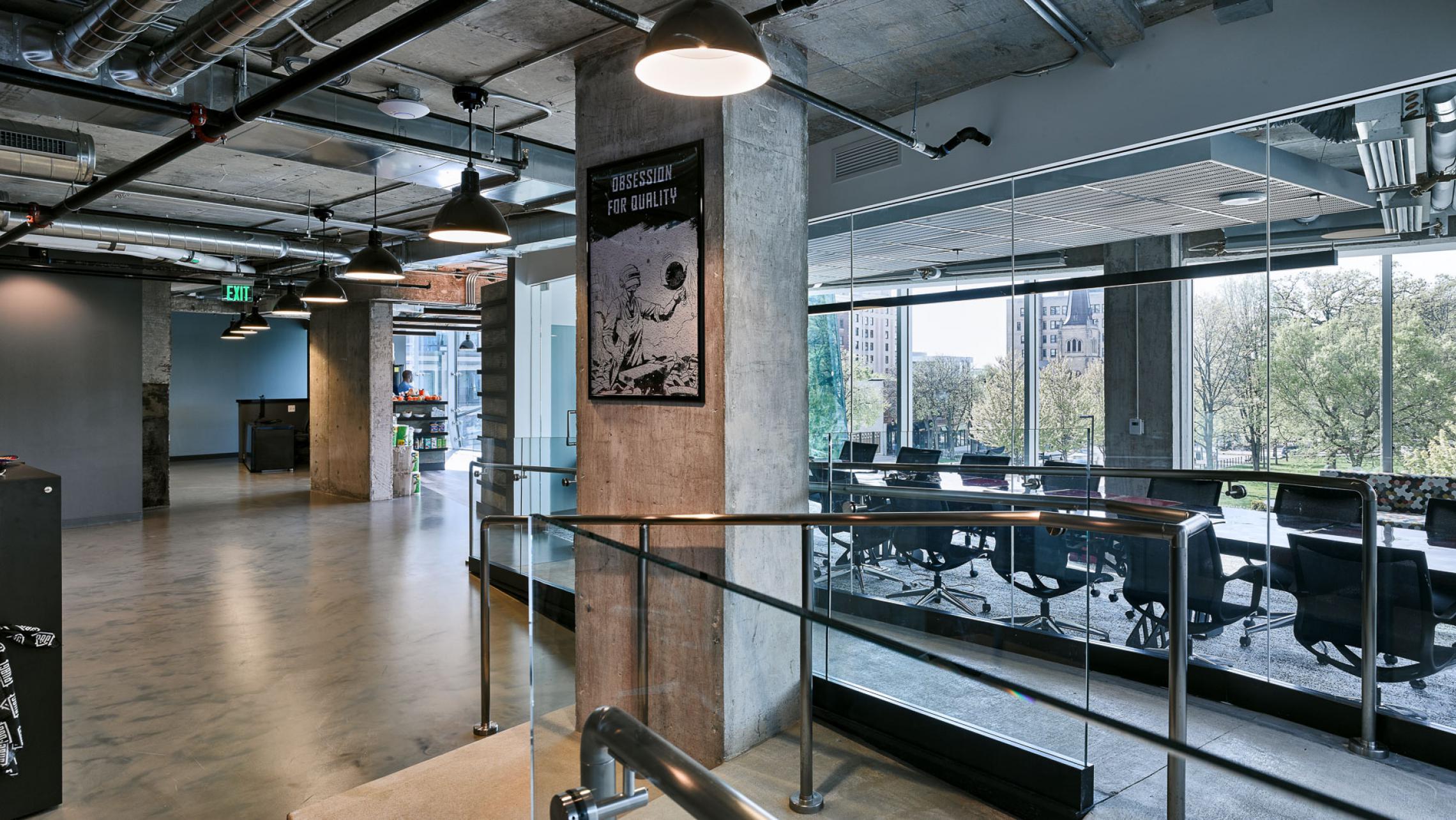 25 West Main Master Development
On December 19, 2014, Urban Land Interests acquired the former Anchor Bank property located on Madison's Capitol Square in order to pursue the largest new development in Downtown Madison since ULI's Block 89 project. Currently under construction, the site was formerly home to a dated office building, a surface parking lot, and a deteriorating parking ramp.
Today this extensive urban infill redevelopment includes the complete renovation and expansion of the office building, the demolition of the above grade parking structure, the construction of a five level underground parking structure beneath Carroll Street and the construction of a new mixed-use apartment building; containing retail space at the sidewalk level and eight floors of rental homes.
Upon completion this summer, this redefining development will consist of:
25 West Main
A fully renovated, Class A office building with a new modern glass façade, new high efficient building systems, 171,000 rentable square feet of office space, and 32,000 rentable square feet of ground floor retail space. 25 West Main features floor-to-ceiling windows offering unparalleled views, ample underground parking and the sophisticated details that Urban Land Interests is known for.
The Pressman
A signature apartment building designed to accommodate an urban lifestyle while not compromising on quality or style. Spacious floor plans include large open kitchens, generously sized walk-in closets and roomy living spaces that feature vast downtown views. The Pressman's high-touch services and sophisticated amenities are designed to make the transition to downtown living seamless.
Parking
The brand new parking facility includes 528 covered, secured stalls of underground parking extending beneath Carroll Street with convenient vehicular access from Doty Street and pedestrian access on the Capitol Square.
Today
Construction has continued throughout the winter months. The previous parking structure has been completely removed, and digging is well underway for the new, underground parking ramp. So far, they've dug down to 20 feet below ground level and will continue on until the depth of the hole measures 60 feet. In order to facilitate such a large excavation, an average of 15 dump trucks have been hauling 10-12 trips of 10-12 cubic yards of dirt off site every day. That's over 1,500 total cubic yards of dirt removed daily! In addition, the precast façade removal has now been completed, meaning that the concrete that previously lined the windows is gone, giving the building a noticeably different look.
Visit the Urban Land Interests Facebook Page for more pictures and construction updates.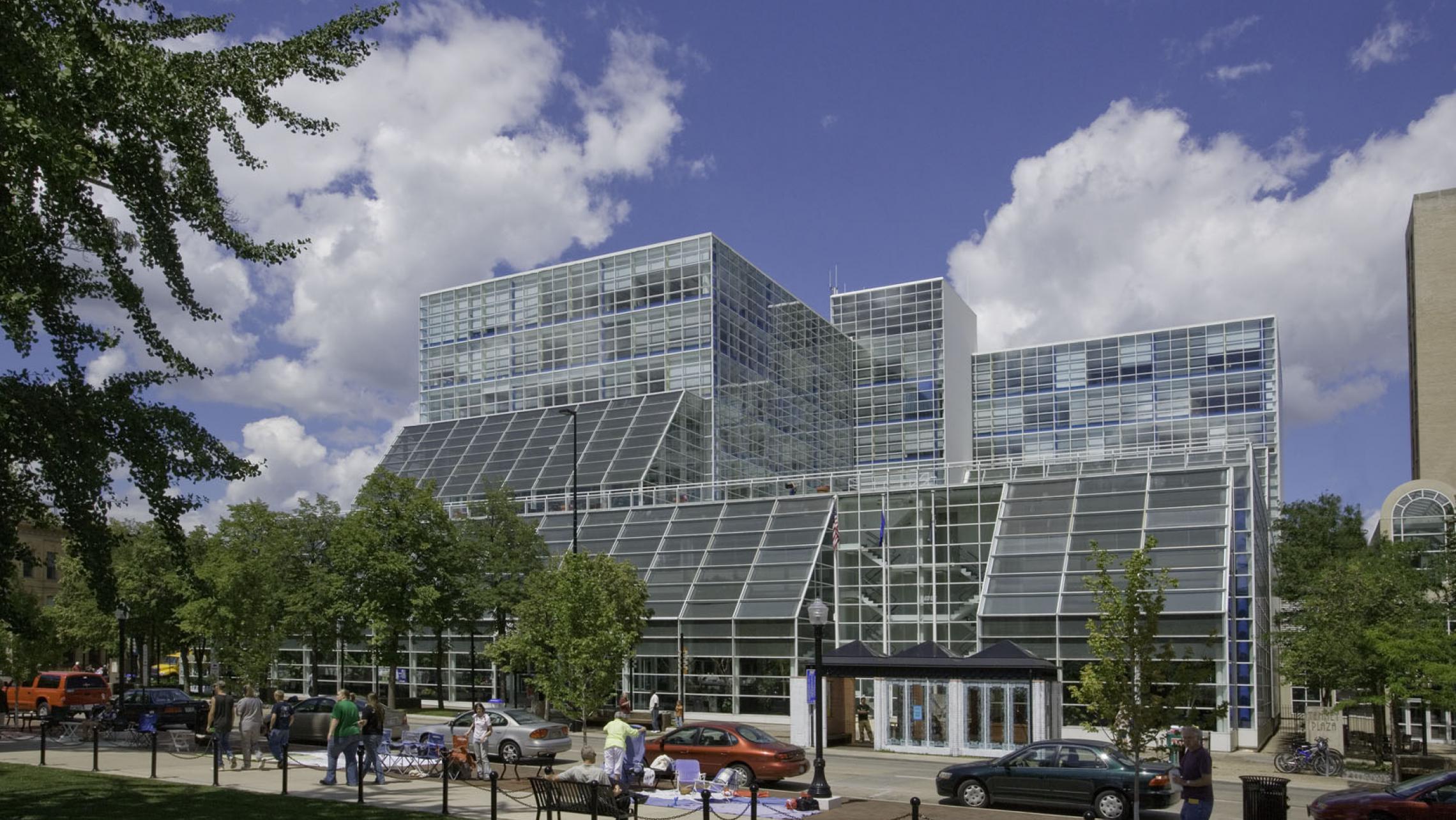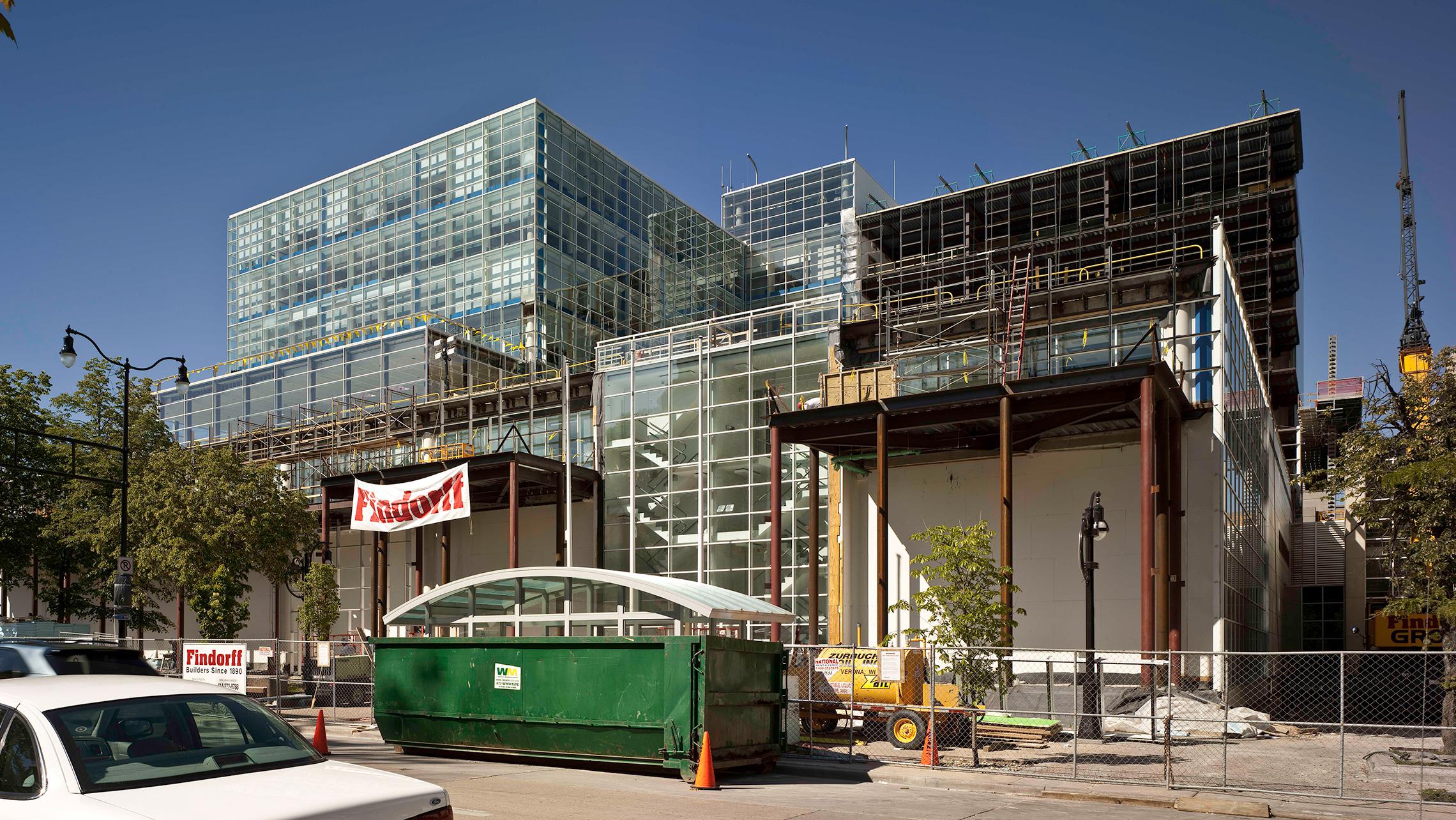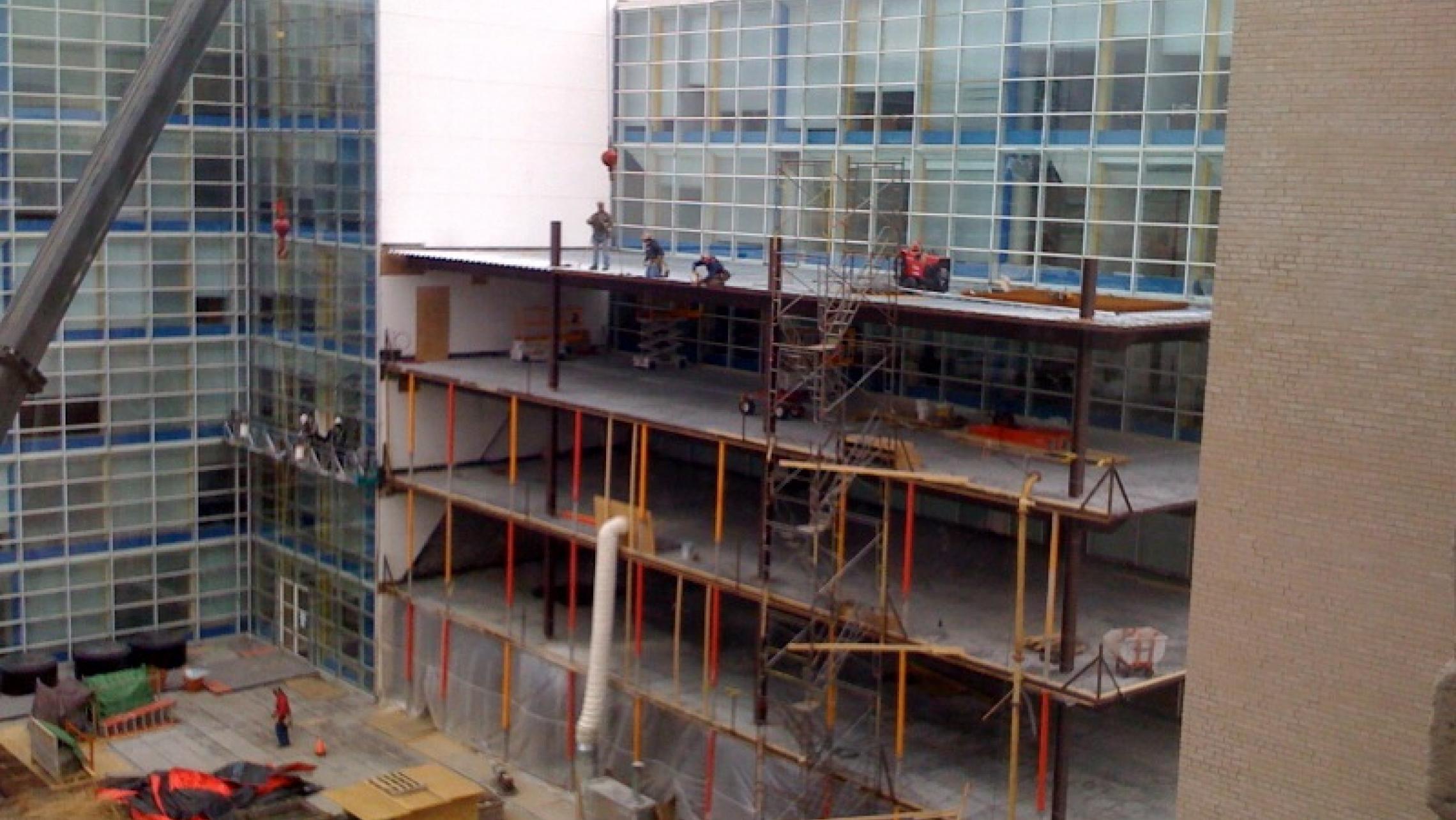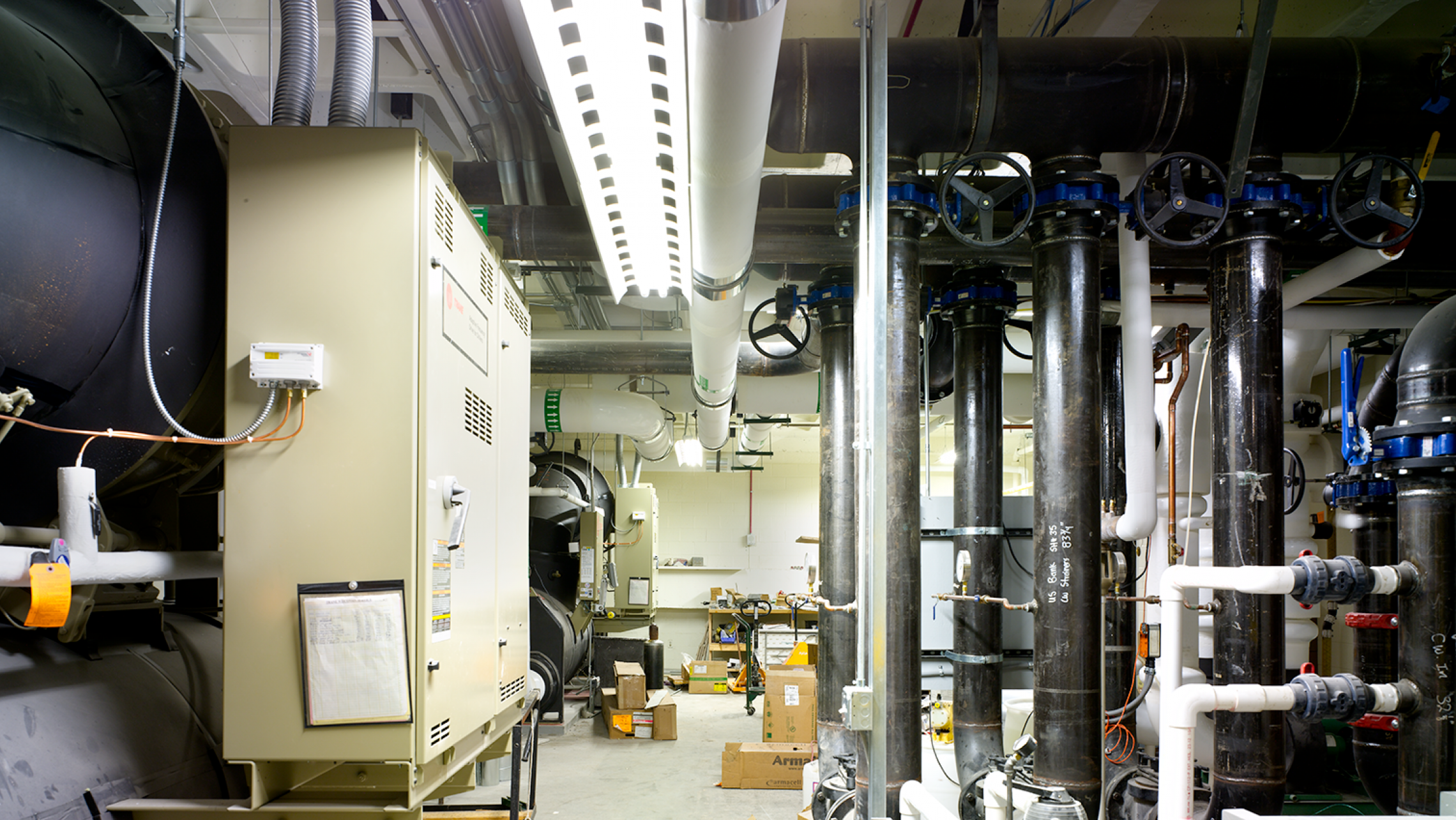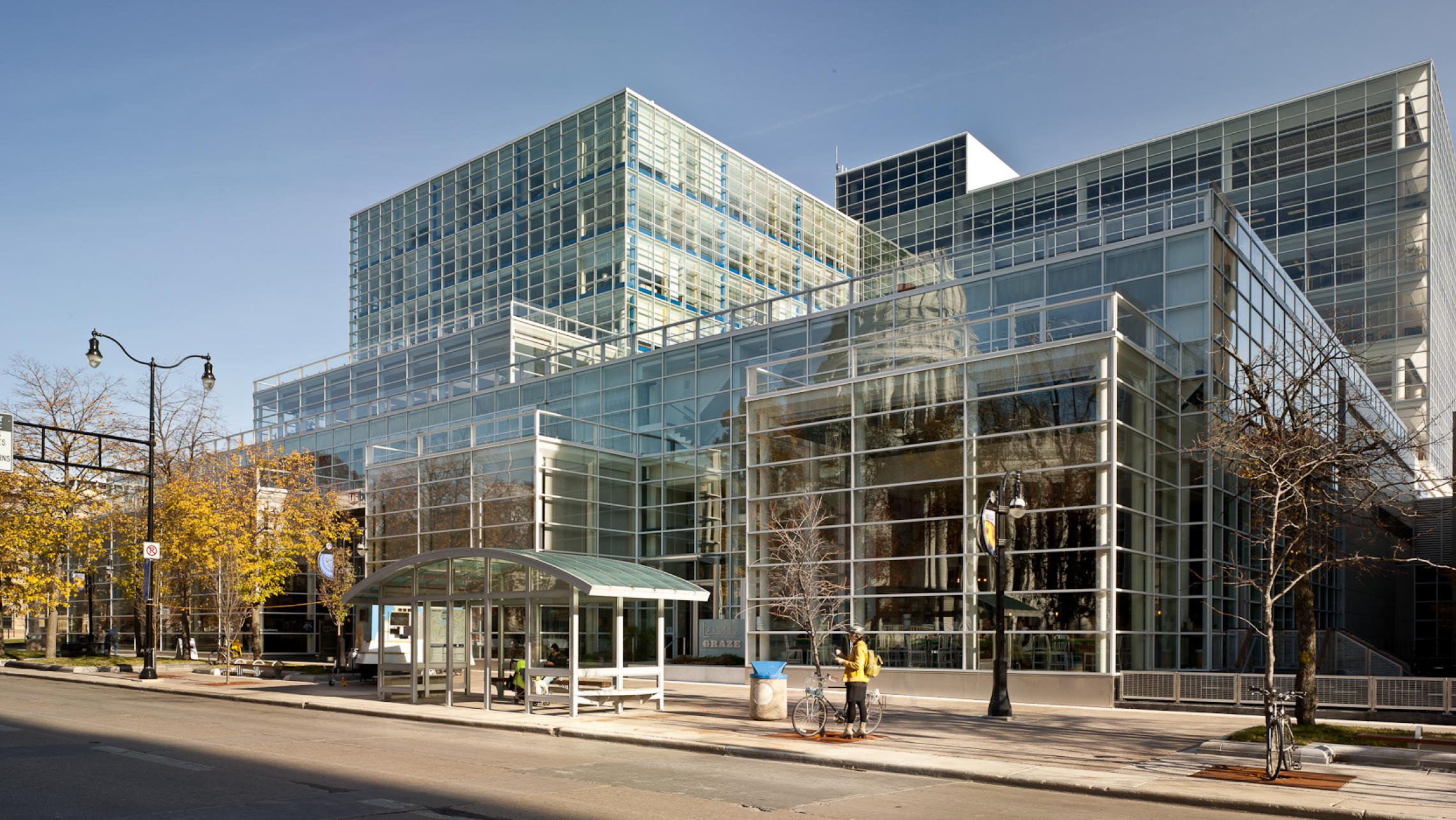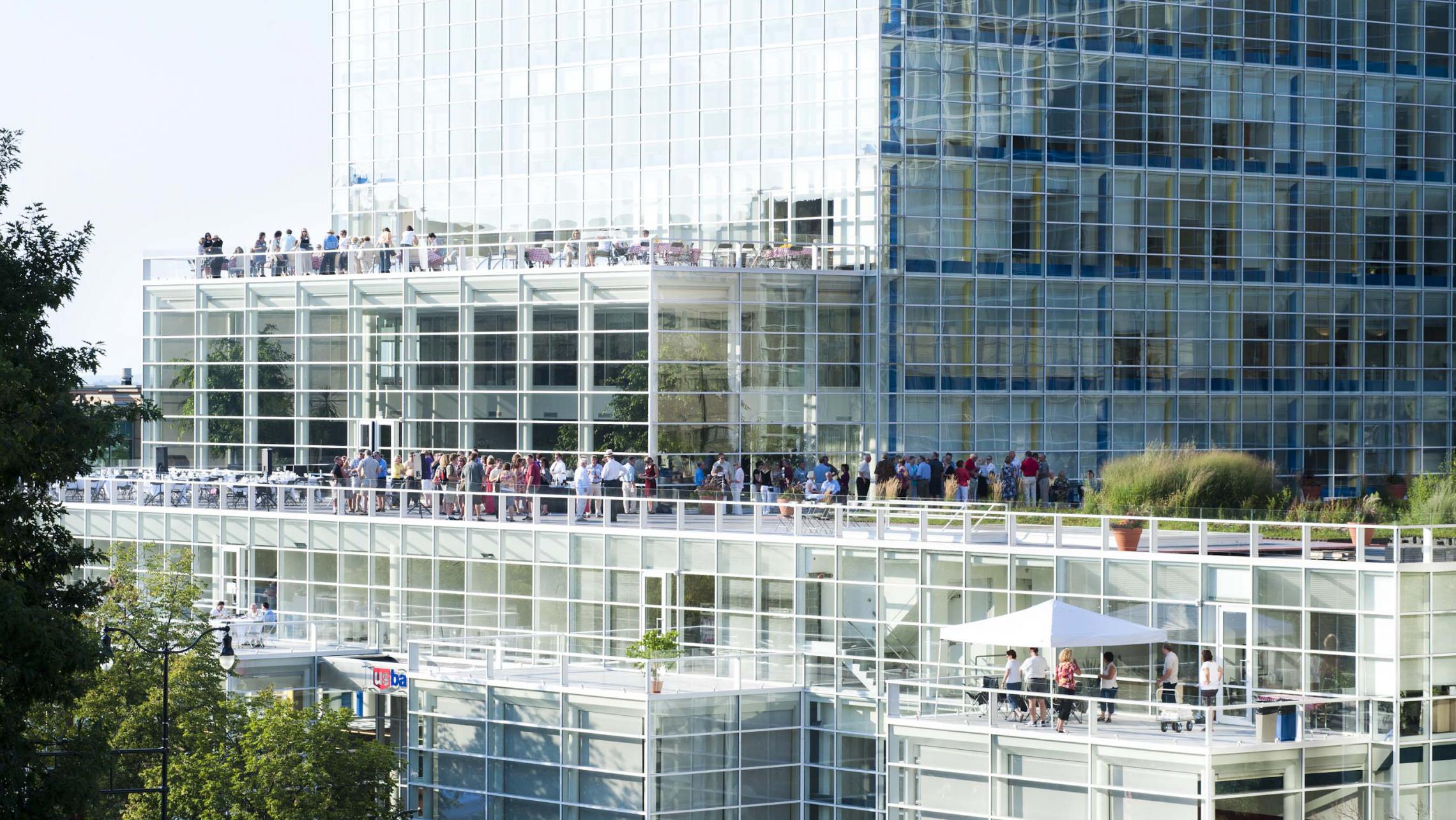 US Bank Plaza Renovation
The "Glass Bank Building," US Bank Plaza, was dedicated in 1974. It is Madison's only example of an international style or "glass box" high-rise. It was designed by Skidmore Owings and Merrill "SOM", one of the largest and most influential architecture firms in the world. The SOM Partner in Charge, Bruce Graham, worked with structural engineer, Fazlur Kahm on this notable project. Together, Graham and Kahm, produced many significant buildings, including Chicago's John Hancock Center, Willis Tower (Sears Tower) and the Inland Steel Building.
Since acquiring US Bank Plaza in 2008, Urban Land Interests has worked to update the building while remaining true to the original design intent. Through sensitive renovations, ULI achieved LEED-EB Gold status for the building and was successful in cutting energy usage by more than 35% and improving water usage by 85%.
As part of the renovation, ULI restored the iconic murals in the building's lobby. The artwork consists of a series of dramatic murals by the Italian painter, Valerio Adami. Five immense panels, each 29 feet by 22 feet, are silk screened on plastic laminate with a ballet music theme. The innovative, colorful and exciting murals were selected by SOM and commissioned specifically for the space.
Renovation Detail
U.S. Bank Plaza was possibly the most notorious consumer of energy of any office building in Wisconsin. The renovation of U.S. Bank Plaza (both the office/retail building and the underground parking that serves it) reverses a downward slide caused by decades of reluctance to make capital investments. As part of this complete renovation, ULI's team has cut energy usage by 38% and water usage by 85%, from 32 million gallons of water used in 2007 to 3.9 million gallons used in 2011. This environmental sea change required financial investment, dedication of the ULI team, cooperation from our community of tenants and a company that is truly committed to the values it advertises.
The 3-story sloped atriums were originally designed to capture views of the Capitol Square and bring the outside environment into the building, but created major heat build-up because of the use of single pane polished plate glass. The glass originally used in the building curtain wall was clear thermo pane glass with no solar shading and little insulating value.
The glass choices and design of the building created a condition where the solar heat gain and ambient solar condition was so problematic that the building could not deliver an interior office environment acceptable to its tenants. The transparency originally envisioned for the atriums became obscured by films and shades that had been installed on the sloped glass in an unsuccessful attempt to reduce glare and heat gain. As part of the exterior modifications, the sloping atriums were removed. With the addition of glass with high shading coefficient on the southern facades, the building now takes advantage of natural day lighting without experiencing the same solar heat gain.
Operation & Maintenance the HVAC systems did not produce tenant comfort in spite of the enormous consumption of energy. Since its purchase of U.S. Bank Plaza in 2008, ULI's team and Environmental Systems Design, Inc., have been on a mission to conserve energy in this 1973 building. ULI has:
Reduced the number of public elevators from 7 to 4.
Replaced the cooling towers with high efficiency equipment.
Replaced the chillers with high efficiency units.
Replaced all perimeter induction units.
Converted the interior zones from a constant volume system to a variable air volume system.
Removed the sloping 3-story atriums, replacing them with rectilinear atriums with flat insulated roofs and glass with high shading coefficient.
Reduced the run time for the garage exhaust fan.
Installed a new building HVAC automation system with DDC controls.
Implementation of green cleaning products and procedures.
Water Conservation
Prior to ULI's ownership, U.S Bank Plaza was served by 11 water source heat pumps. Since the building did not have a recirculating temperate water loop, the heat pumps used domestic water, which was discharged down the drain. All but four of the heat pumps have been removed. The remaining four have been connected to the building's chilled water line.
Interior Upgrades
All building common area and tenant renovations have included replacement of old light fixtures with LED or high efficiency fluorescent alternatives, installation of low consumption plumbing fixtures and installation of finishes that meet LEED standards.
Beyond Energy Efficiencies
Sustainability is about more than just reducing resource consumption. Urban Land Interests has created spaces and implemented programs which both encourage and reward tenants for participating in sustainable practices. In order to encourage alternative transportation; ULI has constructed a modern locker room and shower facility, installed bike racks in the secured underground parking ramp and partnered with Ride Share to help encourage public transportation options. ULI has developed an incentive program that provides credits to tenants for qualified energy efficient appliance purchases. Additionally, our community of tenants have gone above and beyond with implementing their own sustainable purchasing programs.
What's unique about LEED certification for existing buildings is that it takes sustainability to the next level. The LEED for Existing Buildings: Operations & Management certification ensures that buildings are implementing sustainable practices and reducing environmental impacts. The operations and maintenance of a building over its lifetime has the greatest impact on its carbon footprint. You can build a highly rated building under the LEED New Construction category, but that doesn't mean it's running in a green manner. The U.S. Bank Plaza operations have been set up to ensure it always runs green.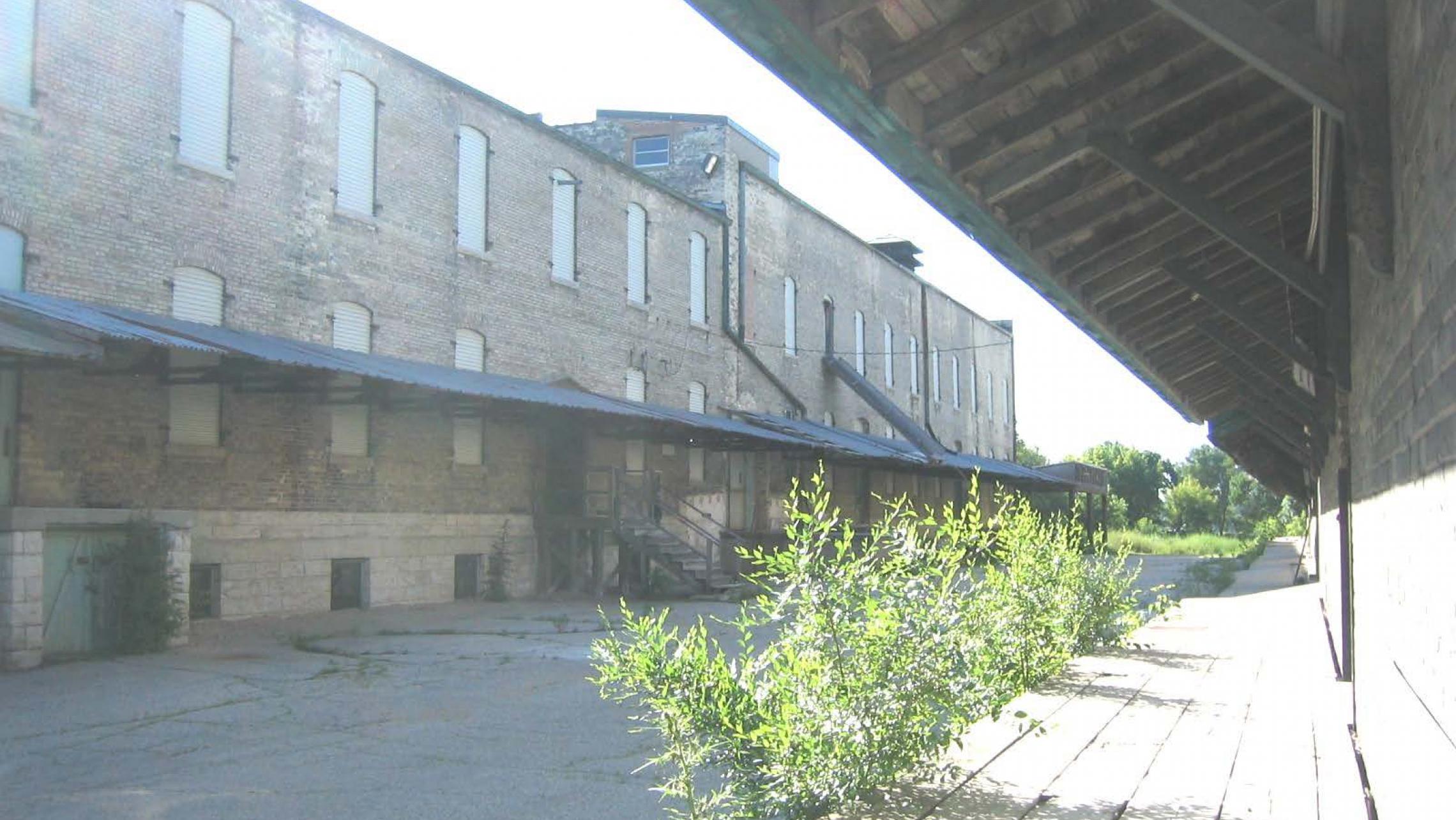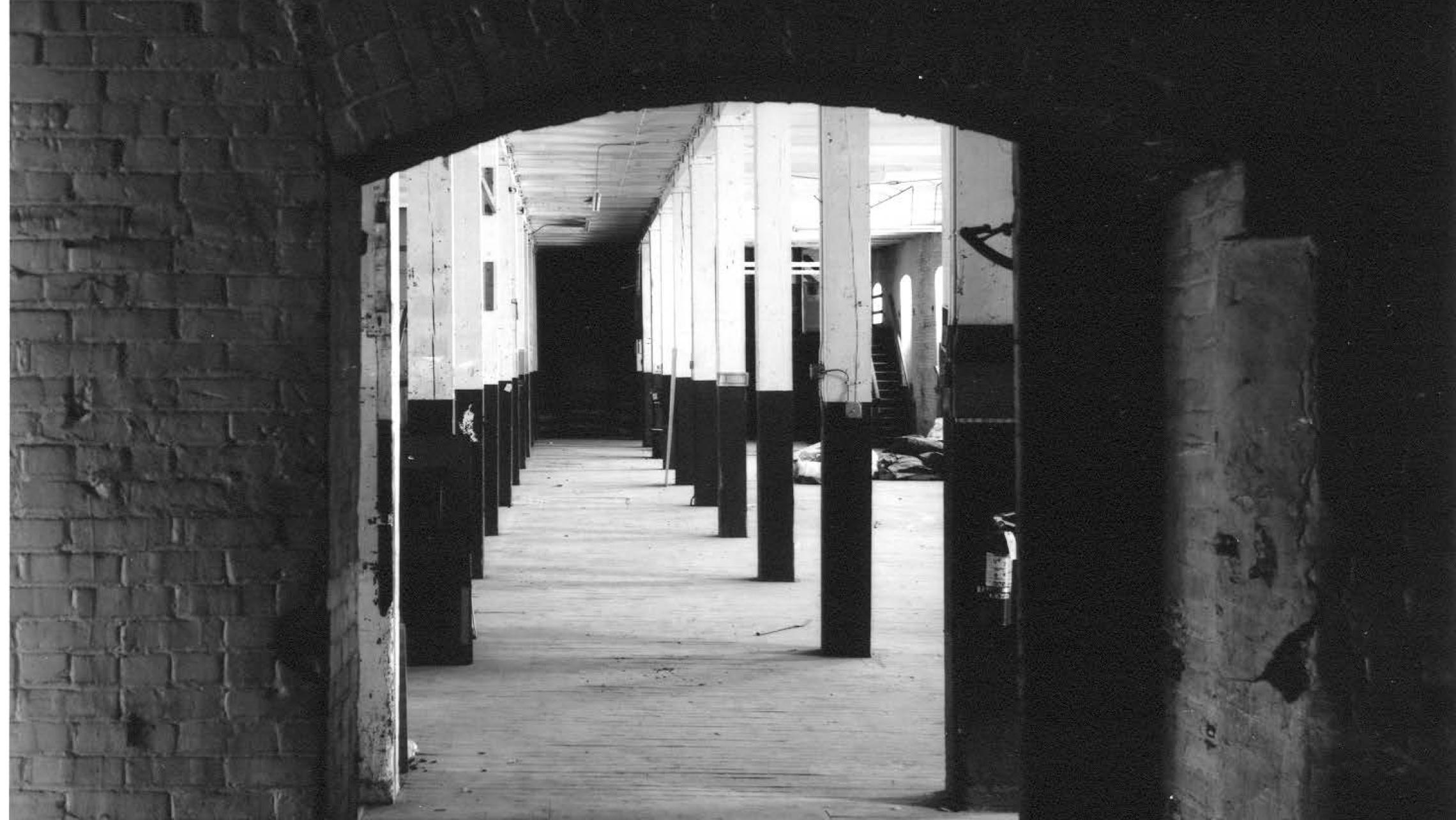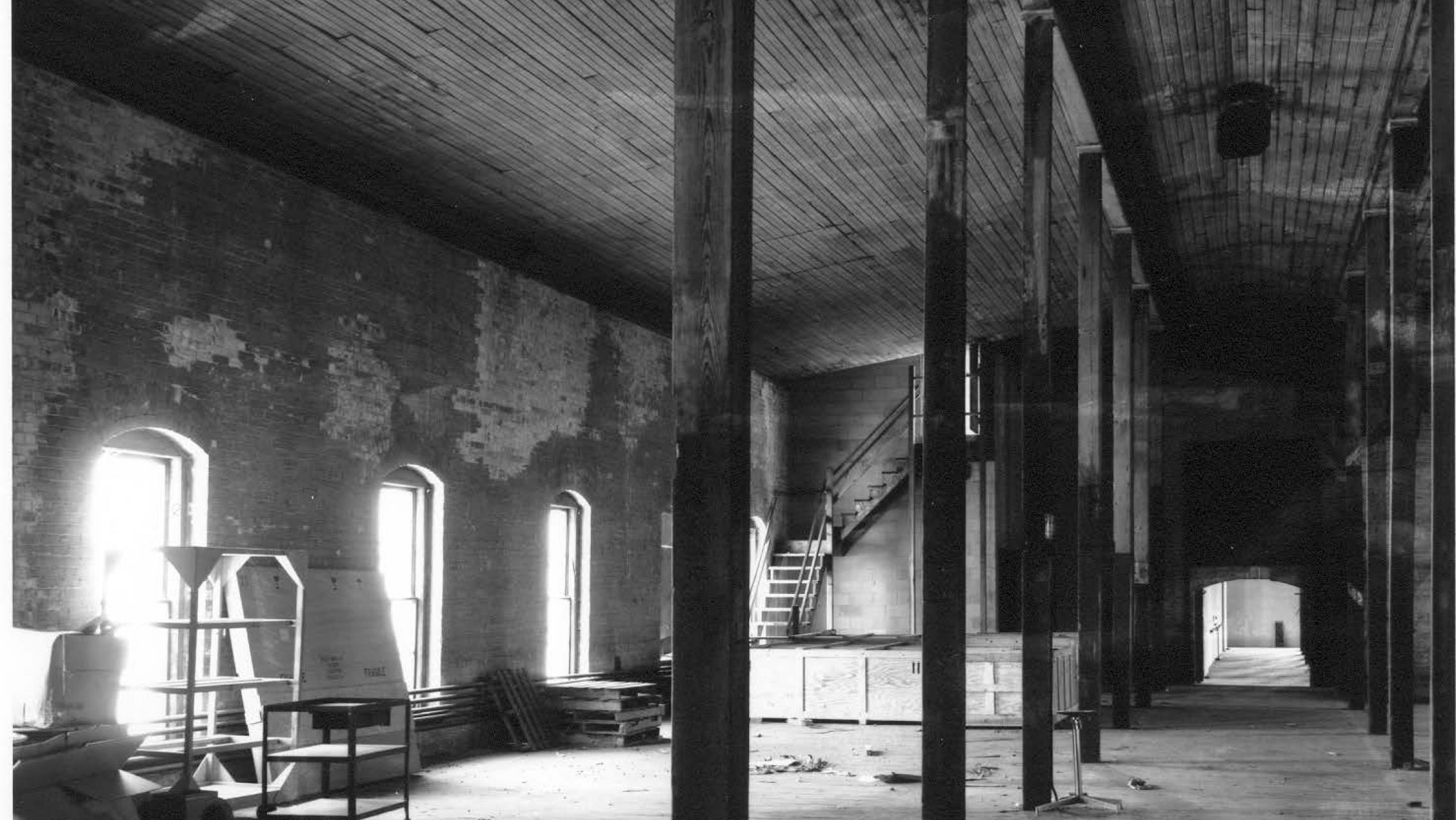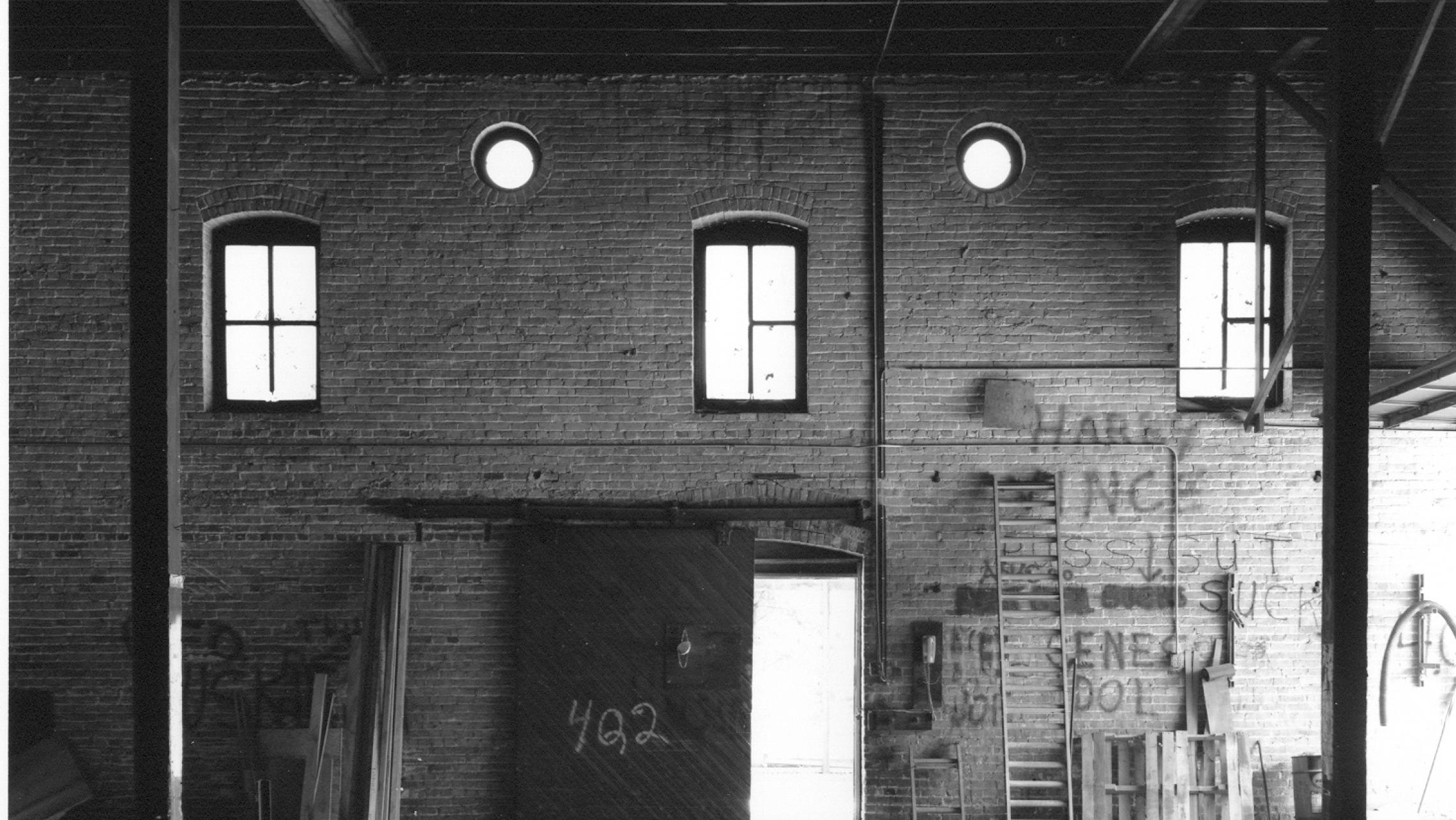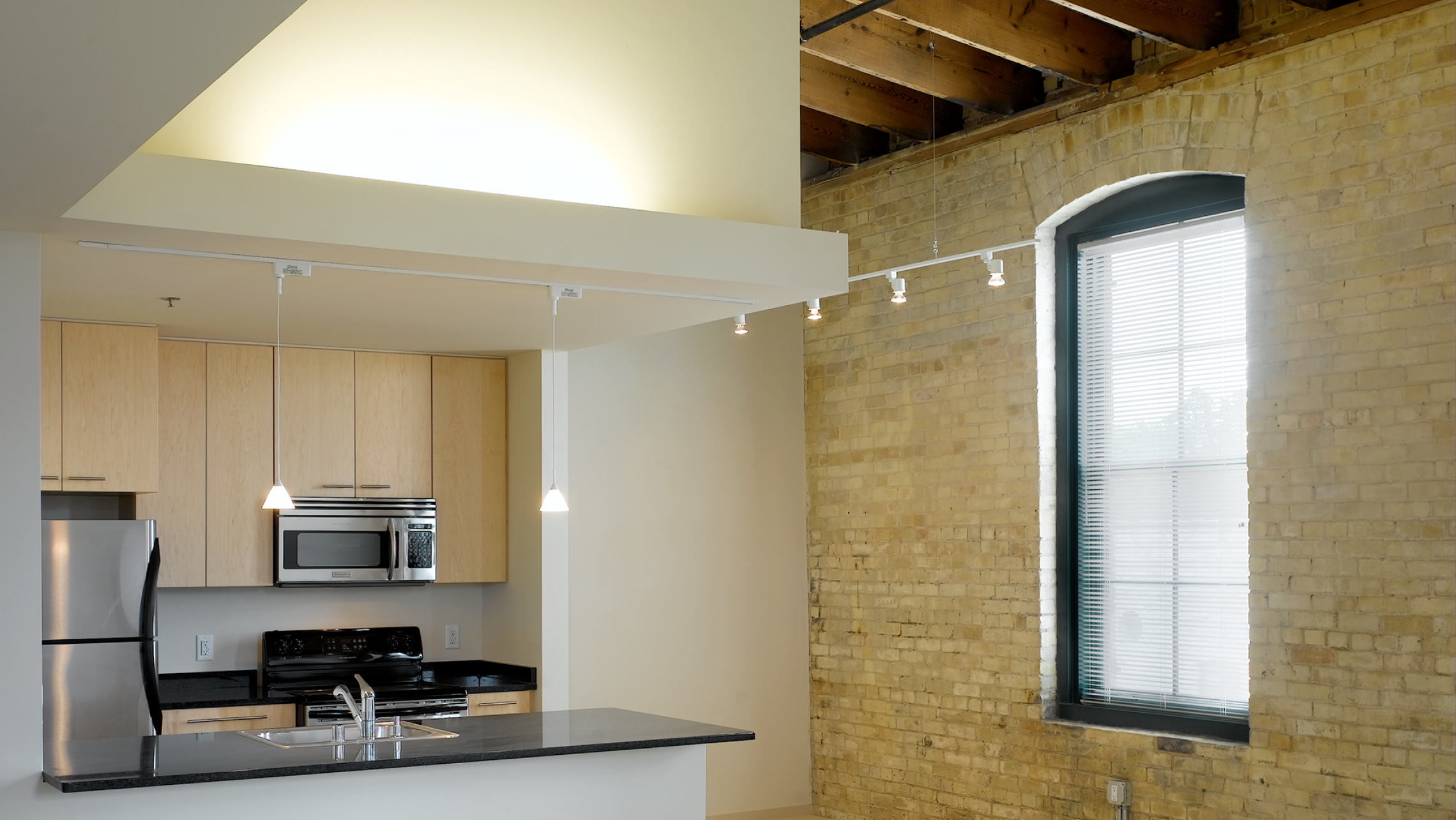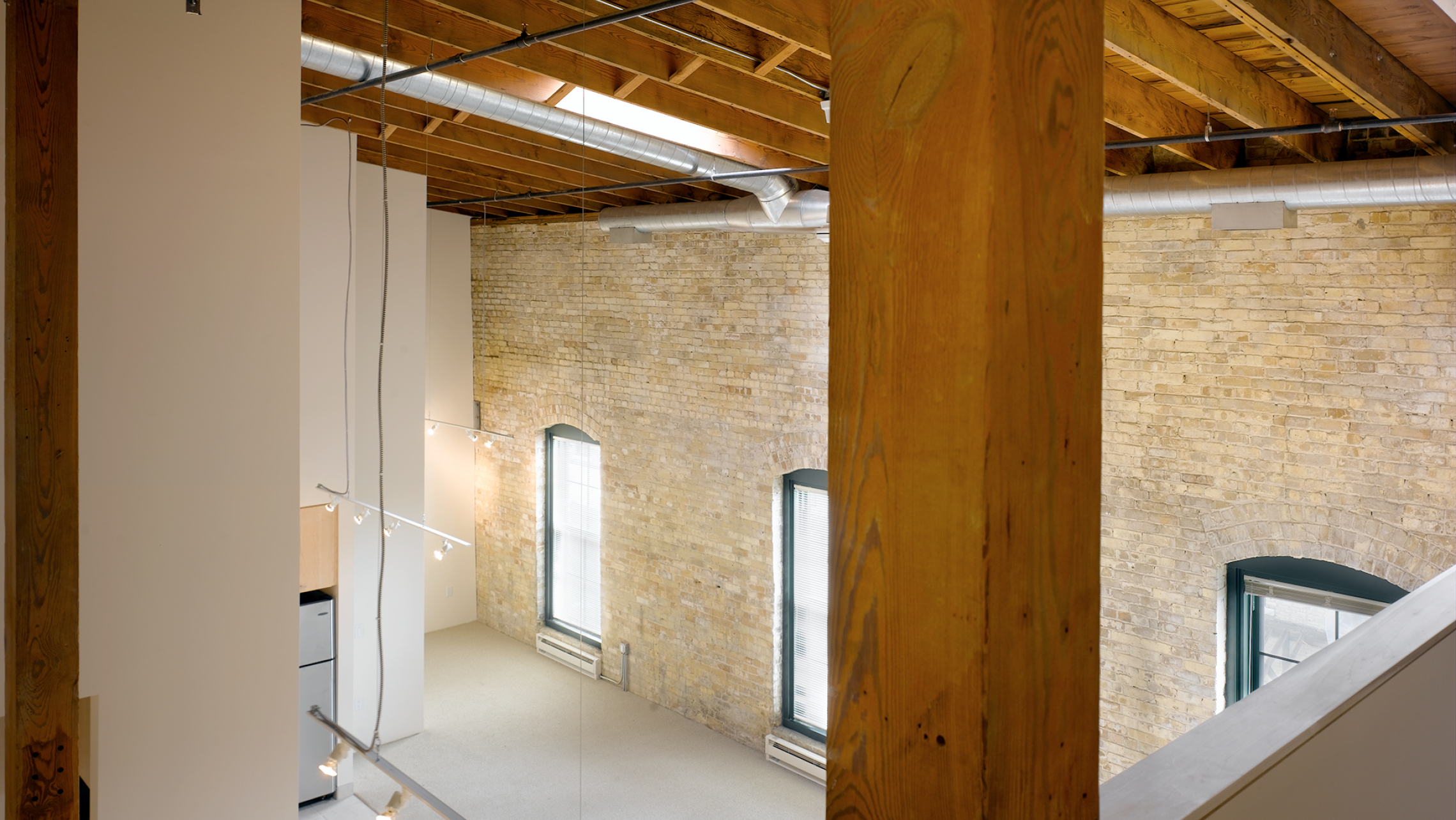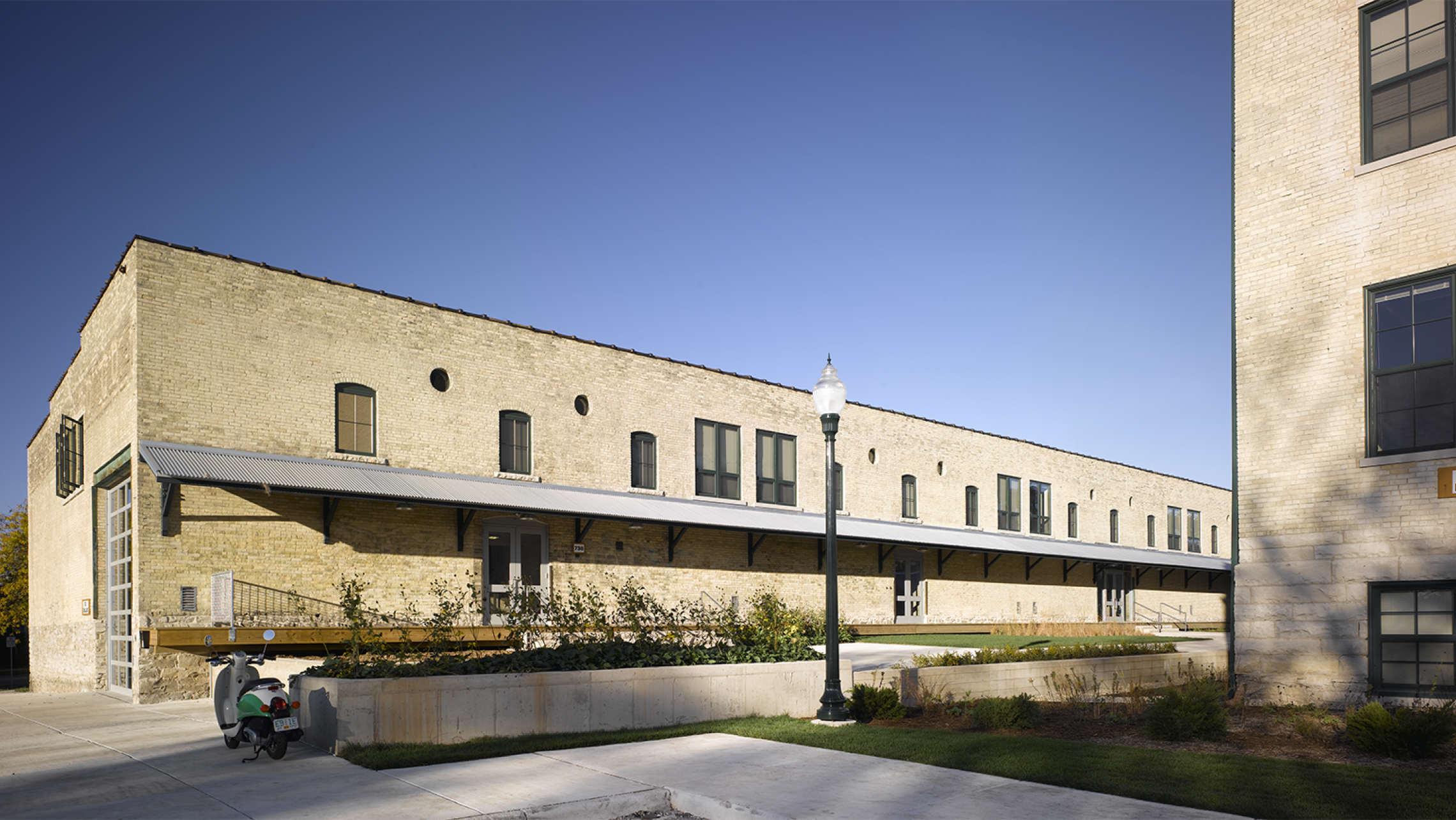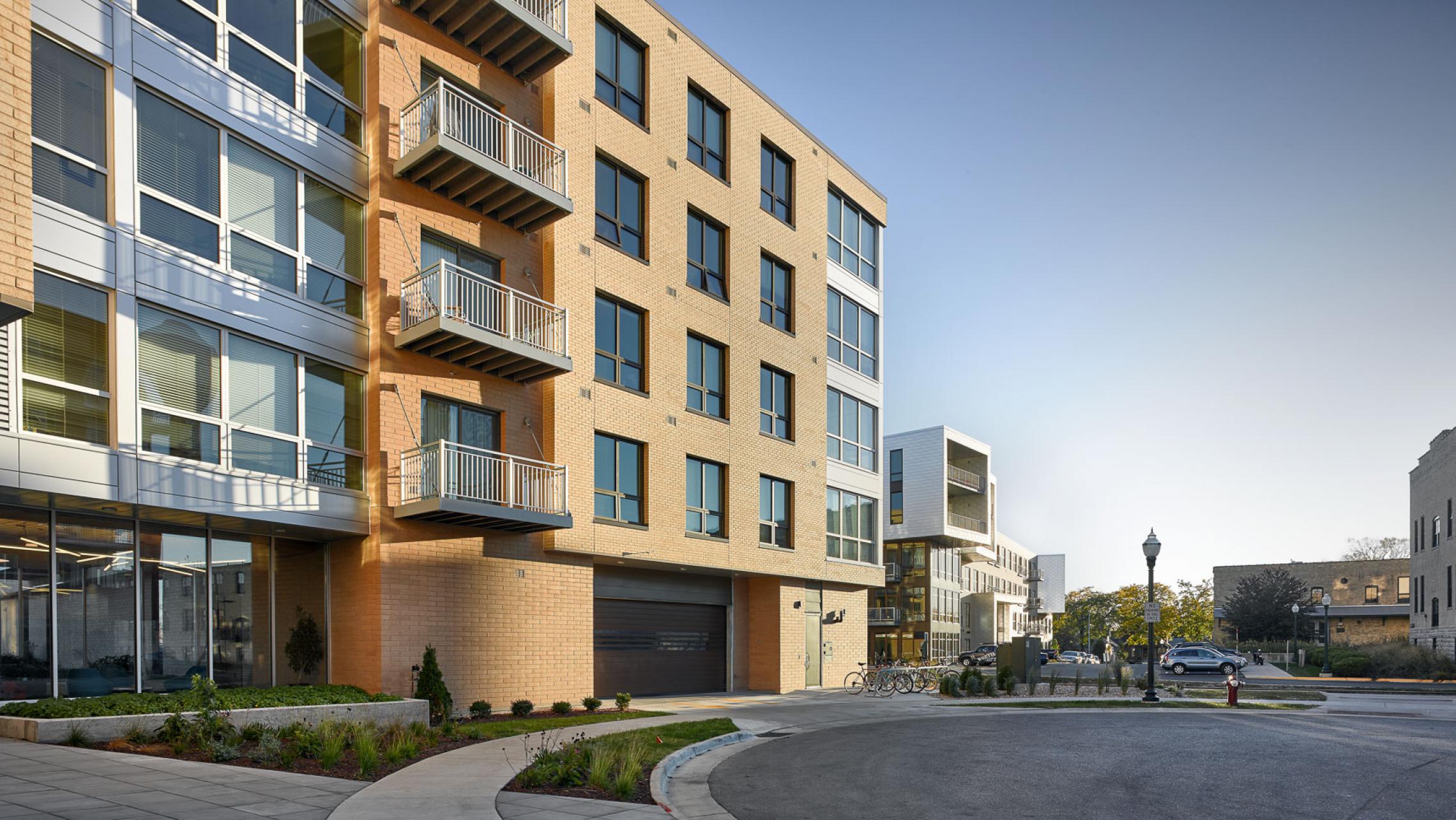 Tobacco Lofts Adaptive Reuse
Tobacco Lofts at The Yards is an extraordinary restoration and adaptive reuse of two historic tobacco warehouse buildings by Urban Land Interests to create a vibrant urban environment rooted in history but loaded with smart modern touches.
The two structures were originally built for the American Tobacco Company between 1899 and 1901 to sort and store leaf tobacco. Grown throughout Dane County, leaf tobacco was used primarily as cigar wrappers. The workers sorting the tobacco, mainly women and girls, could make as much as $1.50 per day.
The west building is notable for being designed by the new but soon-to-be-prominent Madison architectural firm of Claude and Starck. Both structures have cream brick walls set on hand-cut stone foundations. The floors, columns, and roof structure are timber. The buildings were heralded for having all the modern amenities including steam heat, electric lights, city water and sewer, and an electric elevator.
By 1919, the American Tobacco Company had been sold to the P. Lorillard Company, whose faded name still graces the walls of the complex. The buildings ceased being used as tobacco warehouses in 1939, after mass produced cigarettes became more popular than cigars wrapped in Wisconsin tobacco leaves. Since 1939, the buildings have been used for storage, a lumber yard and a woodworking shop while awaiting the next stage in their history.
Originally an industrial district that developed along the railroad corridor, the character of the area began to change shortly after the warehouses were built when the beautification efforts of the Madison Park and Pleasure Drive Association resulted in the filling of the shoreline in the vicinity with sand dredged from nearby Lake Monona. This park-building effort resulted in the creation of a new residential neighborhood that filled in as Madison grew.
Today, the urban neighborhood is still intact, but most of the historic buildings and warehouses in the railroad corridor have been lost. These buildings, now on the National Register of Historic Places, are the only survivors of what was once a thriving Madison industry.
Today
Tobacco Lofts now boasts 61 loft apartments, authentic in every sense of the word, featuring soaring ceilings, exposed heavy timbers and unique unit layouts and is located in the vibrant Yards District. The Yards is a collection of exceptionally designed properties, on a site steeped in the industrial and railroad history of our city, and offering unparalleled access to the best of downtown Madison. Nine Line, perched just east of its companion properties - SEVEN27, Tobacco Lofts, and the Lannon Hill Home and Store – adds 80 impeccably-designed living units. It is seven blocks from the Capitol Square, the center of downtown life and culture, yet with its location, directly along the Southwest Bike Path and across from Monona Bay and Brittingham Boats, it feels like an oasis.
The enduring materials of this historic building are thoughtfully showcased in the unit interiors, which feature the original timber columns and ceilings, exposed brick walls, large windows, and ceiling heights up to 20' married to sophisticated contemporary amenities like sleek gourmet kitchens with granite slab counters and stainless steel appliances. Old and new converge to create truly inspired spaces for living.
The residences include exceptional studio, one-bedroom and two-bedroom apartments, some with lofts, ranging from 643 to 1470 square feet, and from affordable to unbelievable. The center of the community, literally and figuratively, is the landscaped courtyard with wooden boardwalk and bocce court. The property features state-of-the-art geothermal heating and cooling, which uses the constant temperature deep within the earth to provide environmentally friendly individual temperature control to each of the units with minimal electricity and no natural gas.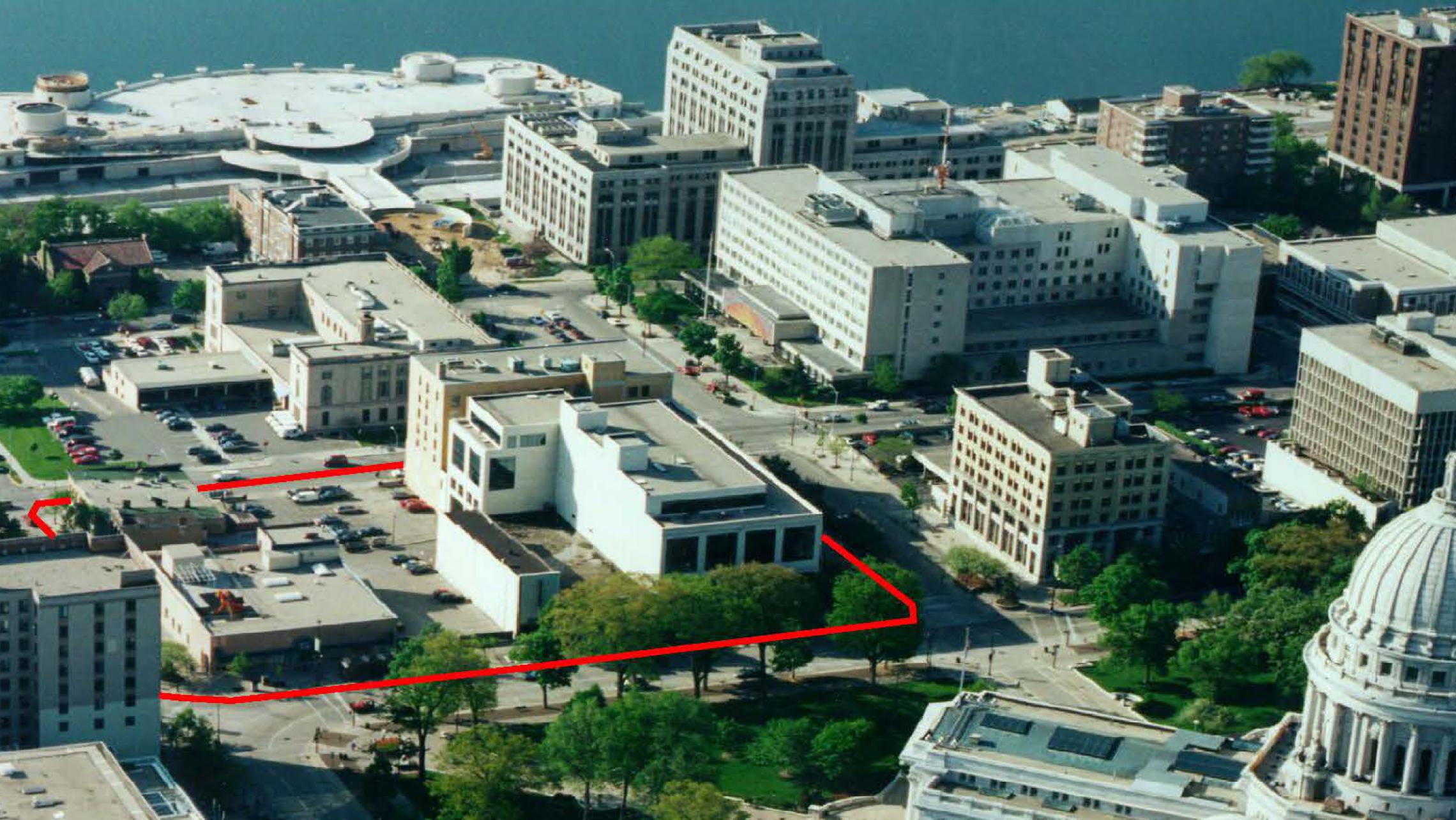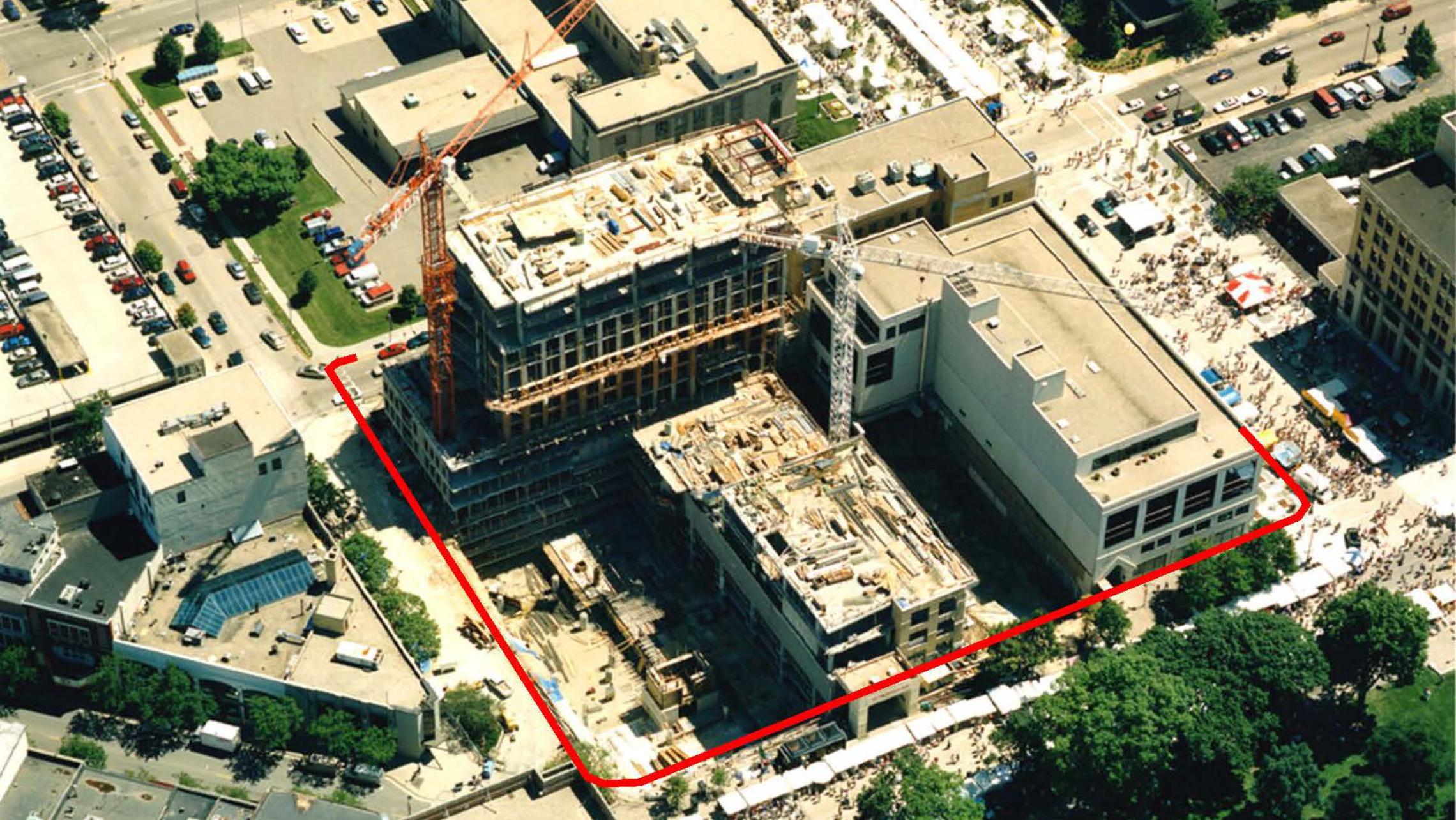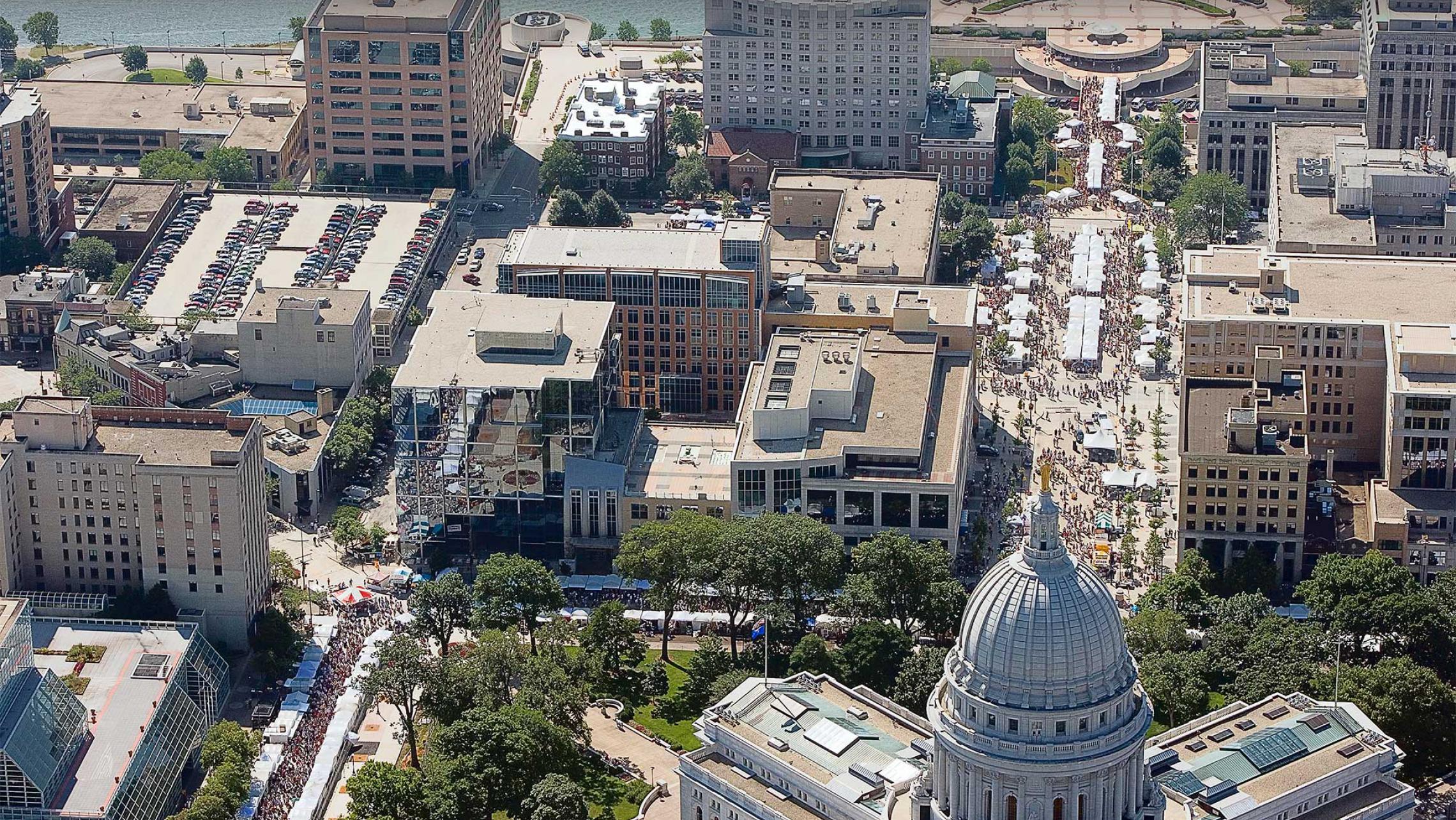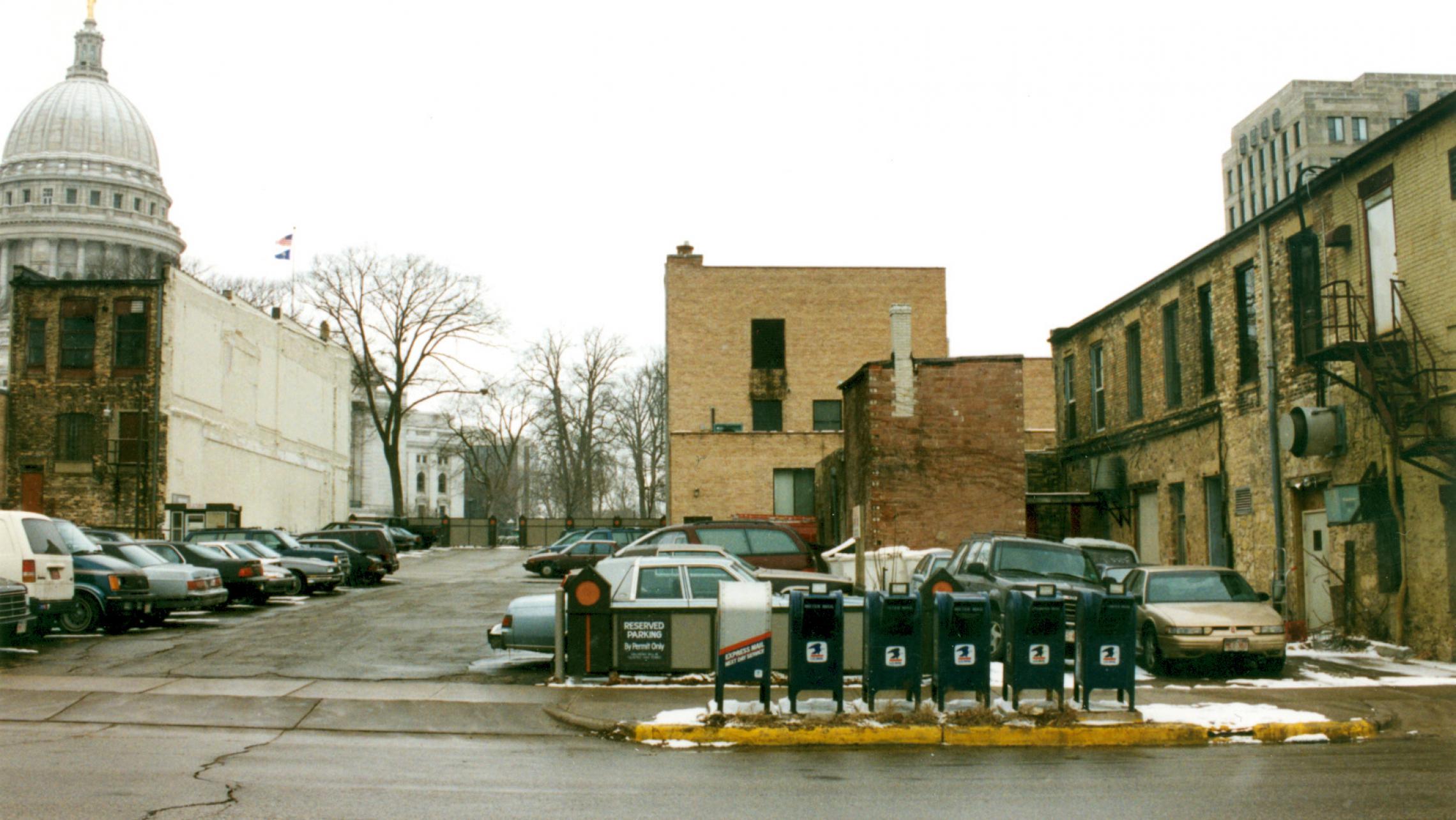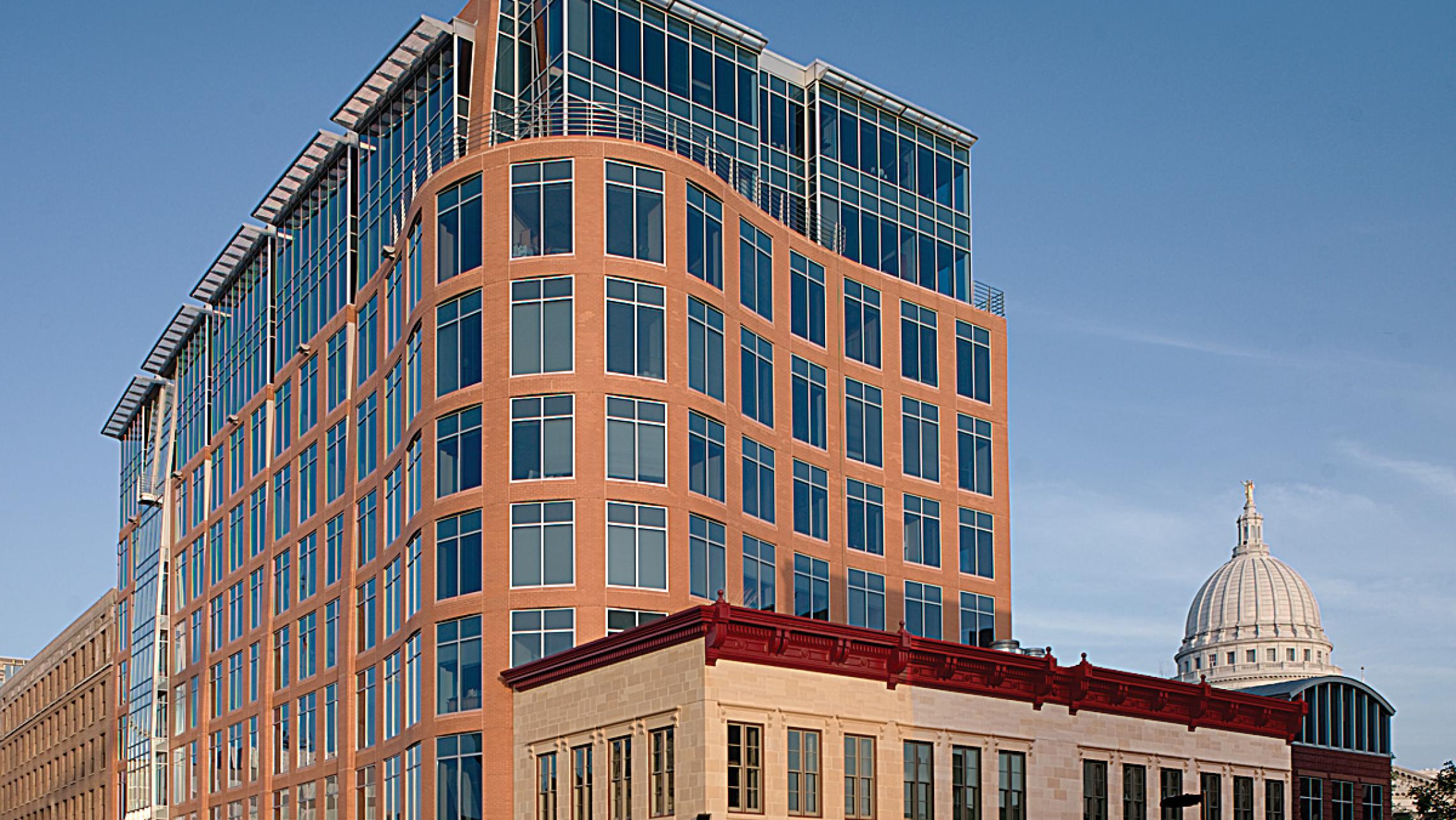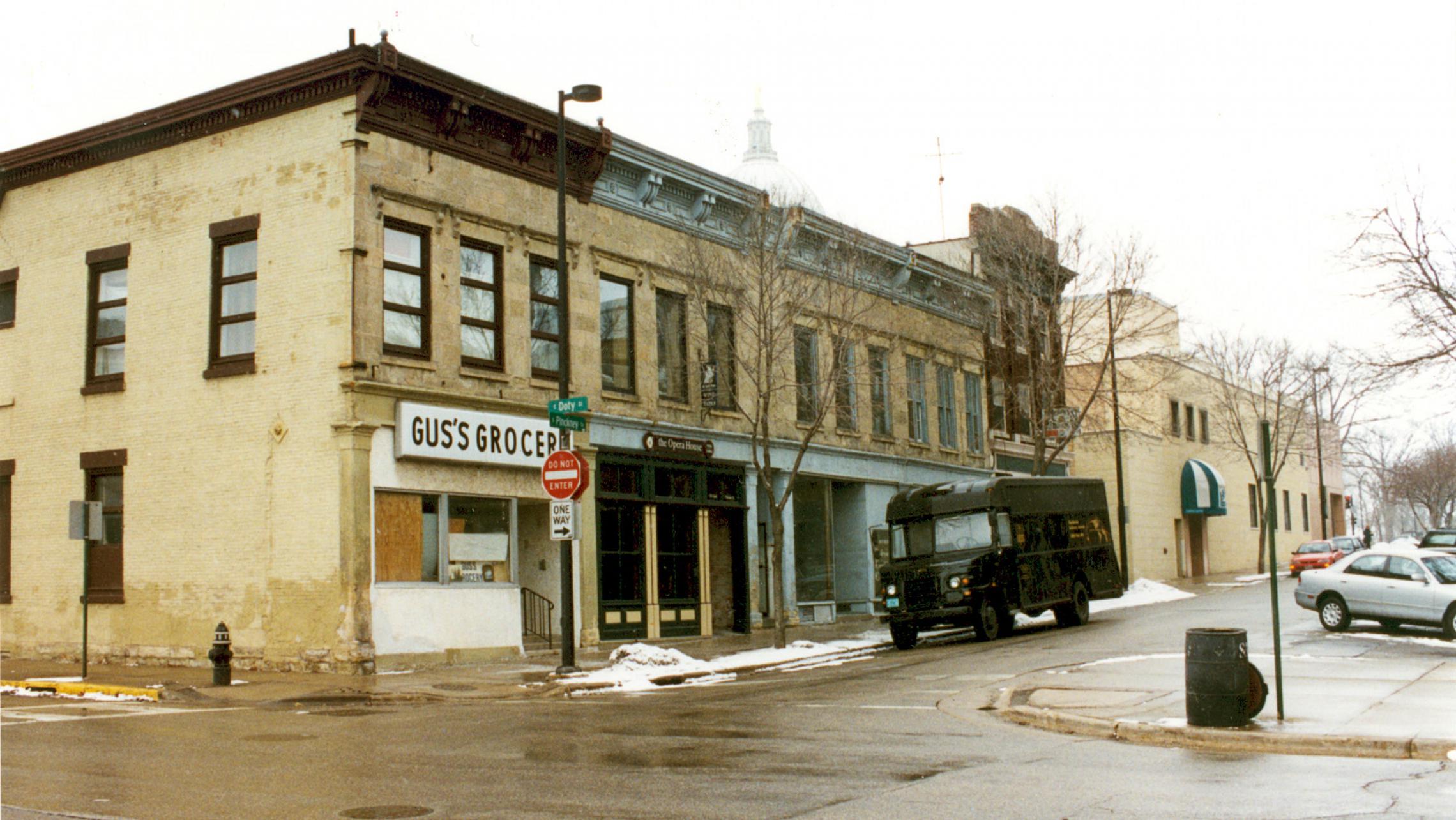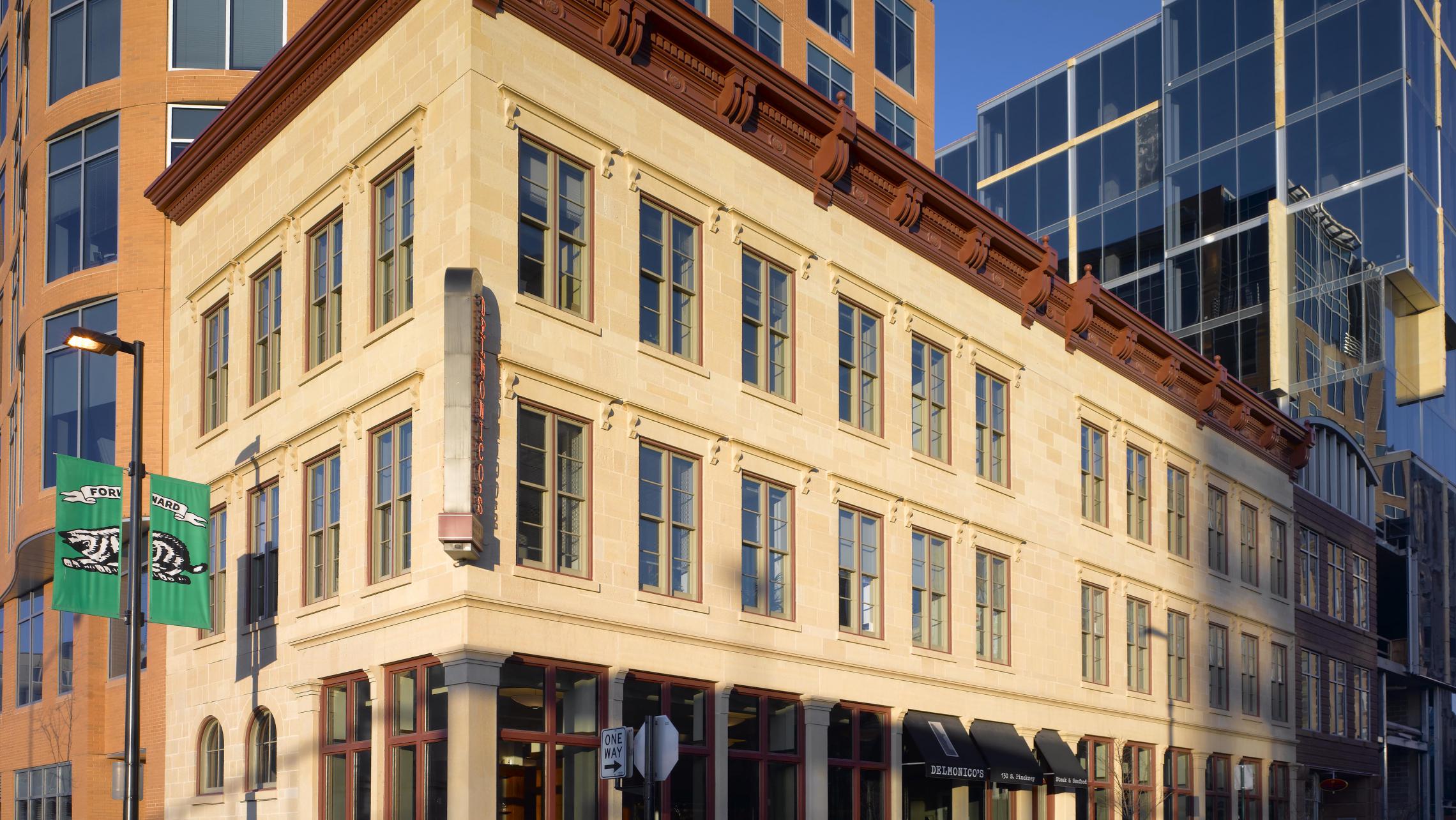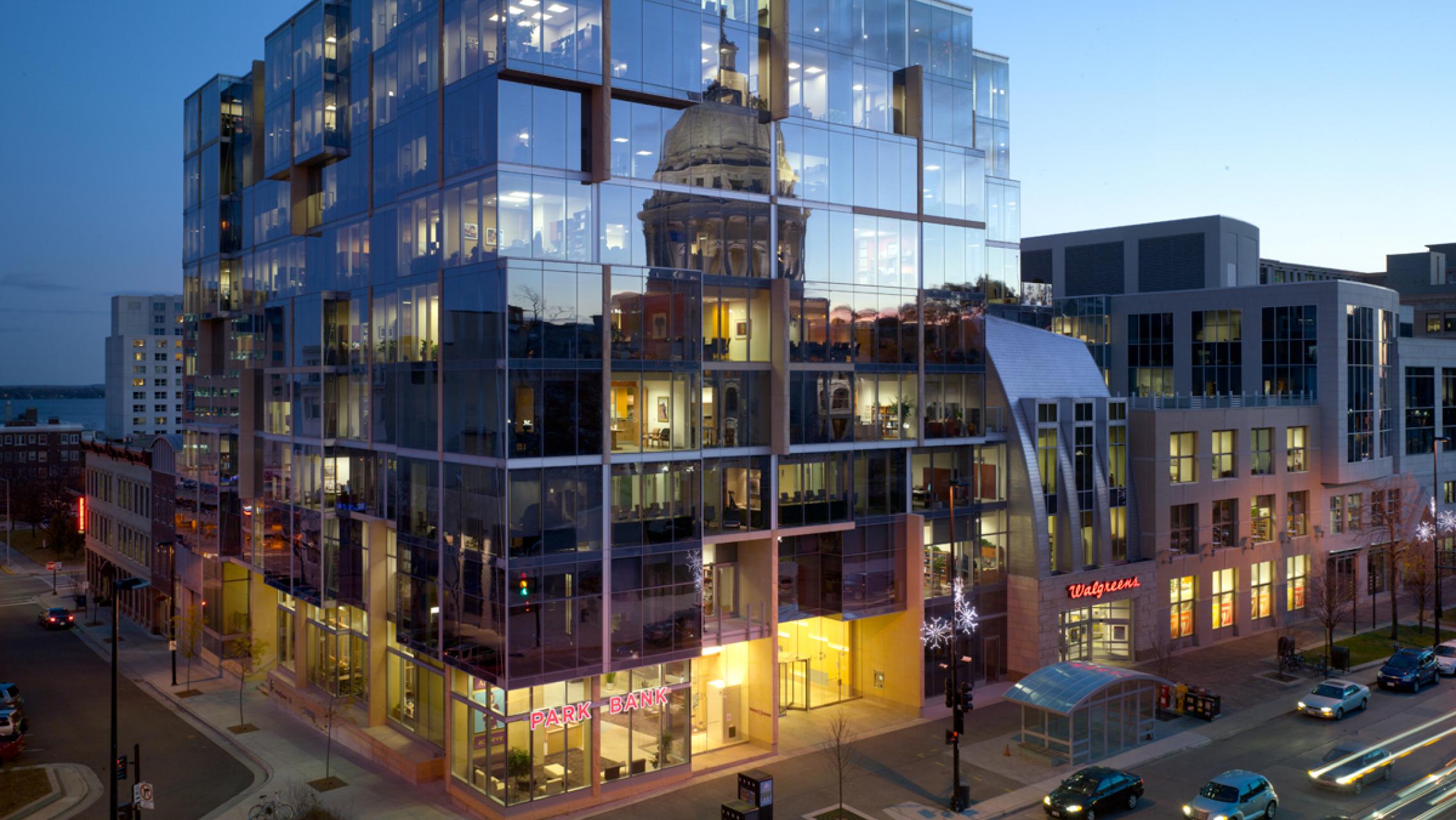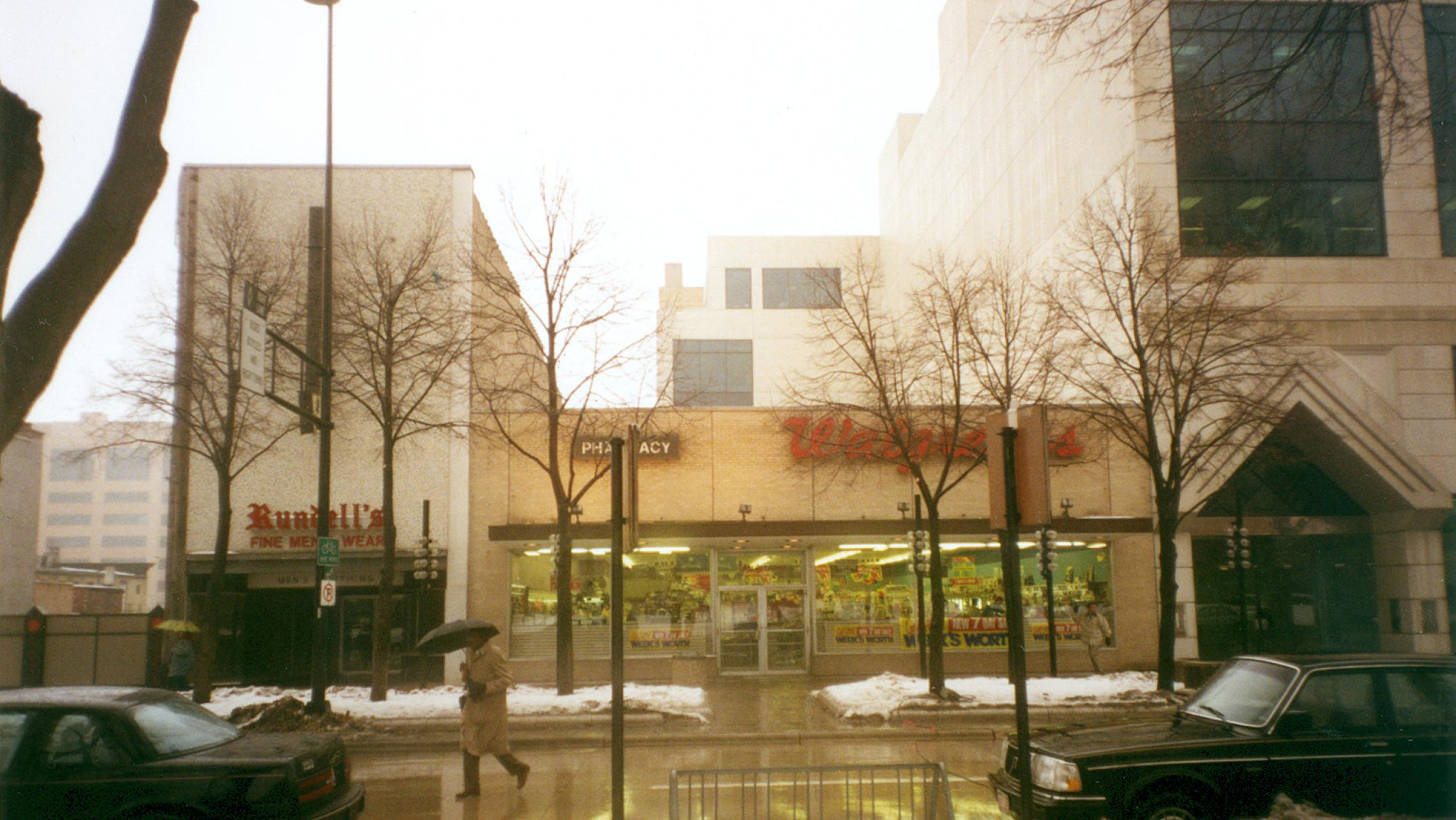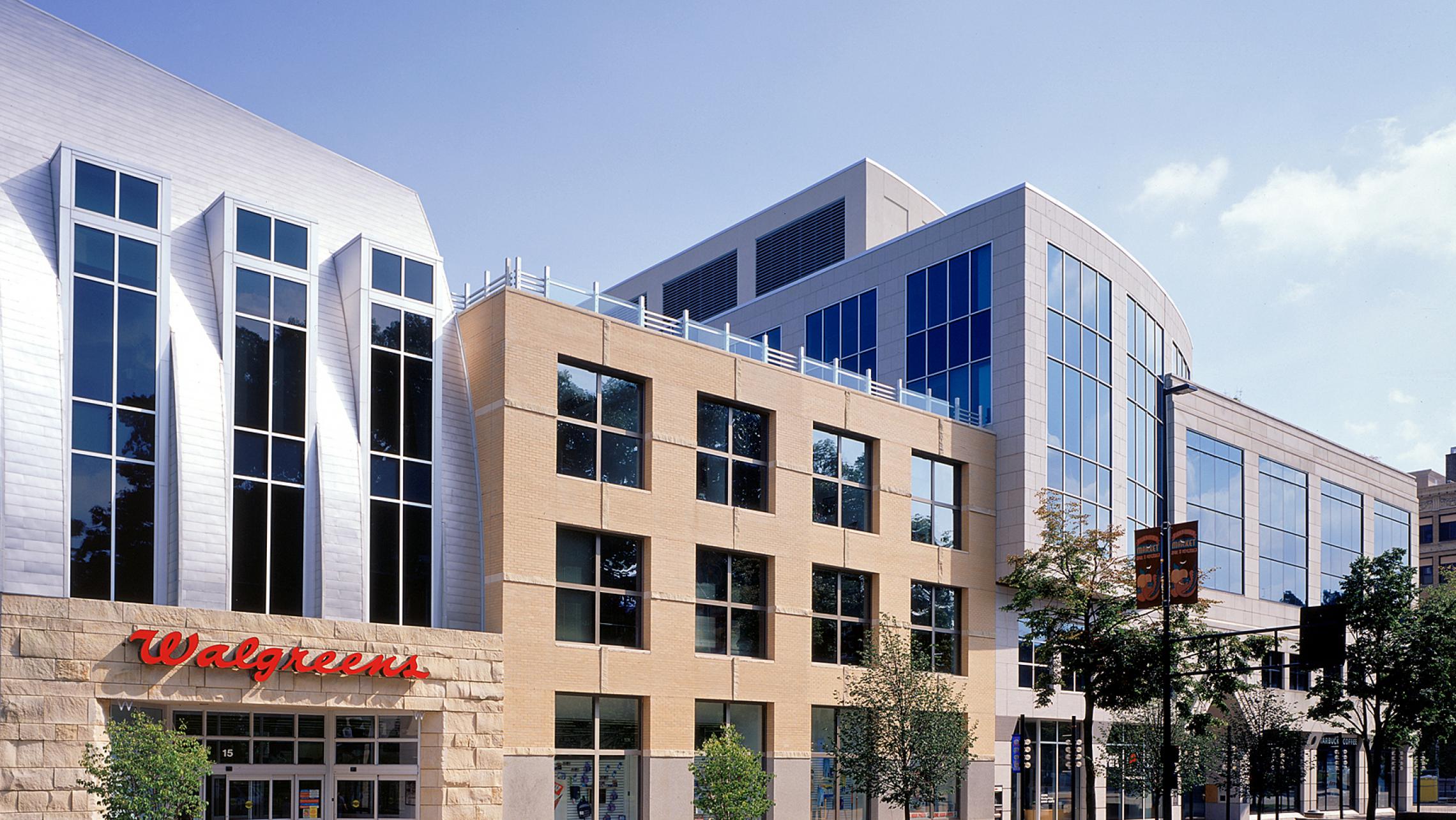 Block 89 Urban Infill Development
The Block 89 development was designed to bring life and activity to the sidewalks surrounding the Capitol Square. The key to this development was creating a five level underground parking ramp, unlocking the development potential of the air rights and creating pedestrian interest on the first floors.
Property acquisition for the project that would eventually be called "Block 89" began in the late 1980's. Urban Land Interests, along with the Chicago based architectural firm Valerio Dewalt Train Associates, developed a concept for a mixed use project that involved construction of underground parking, retail shops and restaurants at the sidewalk level, and a mix of buildings that were designed to recapture the traditional scale of the Capitol Square. A critical element of this concept was the integration of existing historic buildings and new modern construction. The Burrows Block was carefully reconstructed in its original three story form and today houses Johnny Delmonico's, Marigold Café, and office space on its upper floors. Today all of the properties that make up the Block 89 development flow seamlessly, with shared floorplates and a common service core that connects three unique building lobbies with modern loading docks and service facilities.
Today
The completed Block 89 project is an example of how great things can be accomplished when the private sector and the City of Madison creatively work together in true partnership.
A total of 315,000 square feet of new office space was created.
More than 1,000 people work in Block 89 today
743 new underground parking stalls exist
Over 30,000 square feet of new retail and restaurant space was created
The key ingredients in Block 89 project were vision, commitment, trust and a true public/private partnership. This partnership facilitated the creation of the extraordinary Block 89 development that exists today.
"... ultimately it Block 89 strikes the right balance between being responsive to its older neighbors and forging a new identity. With its respect for the traditional urbanism of streets and squares, its bold new architecture, and its gradual, piece-by piece approach, it forms a model for reconstituting and reinterpreting the traditional city."

Blair Kamin, architecture critic for the Chicago Tribune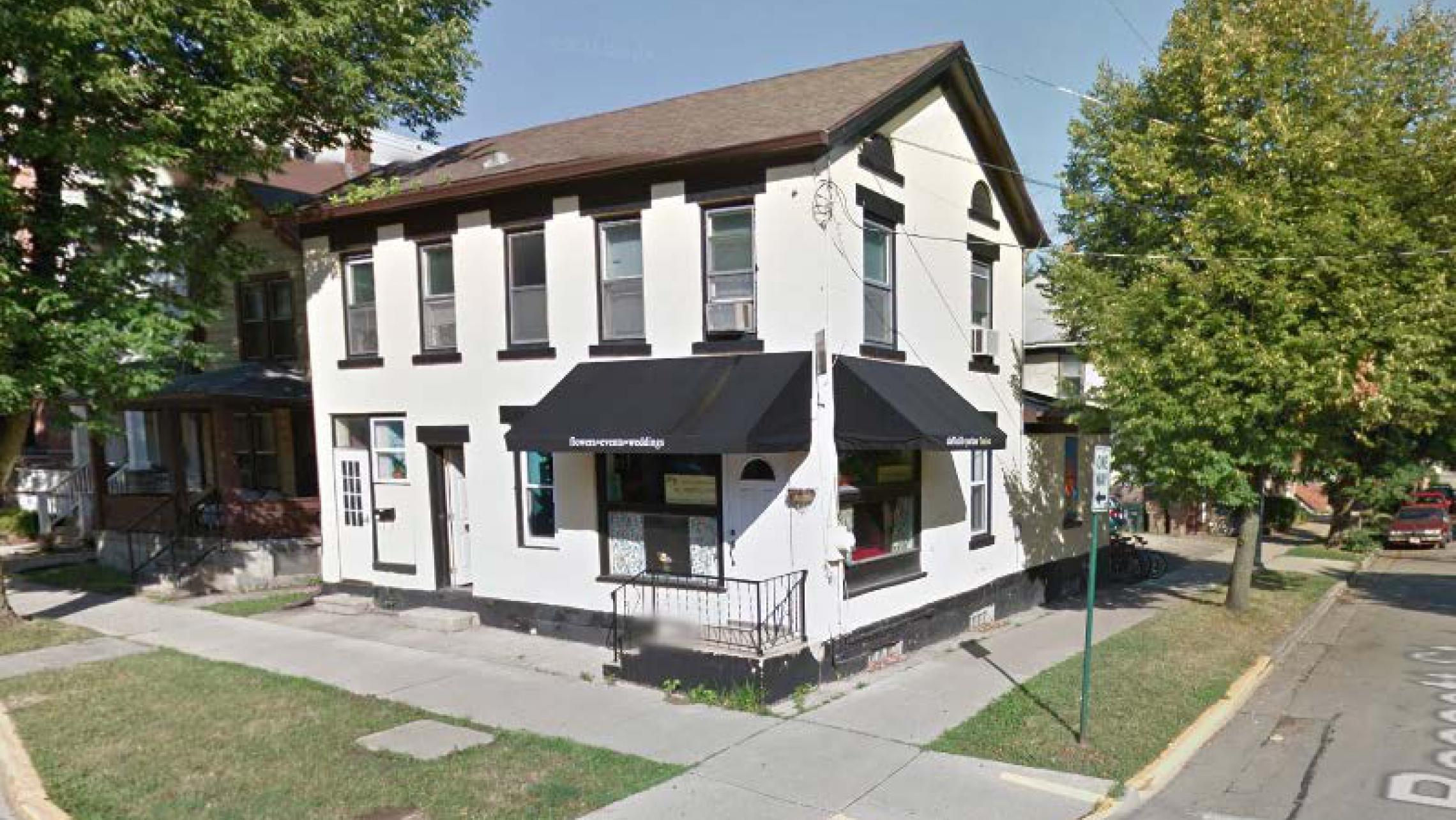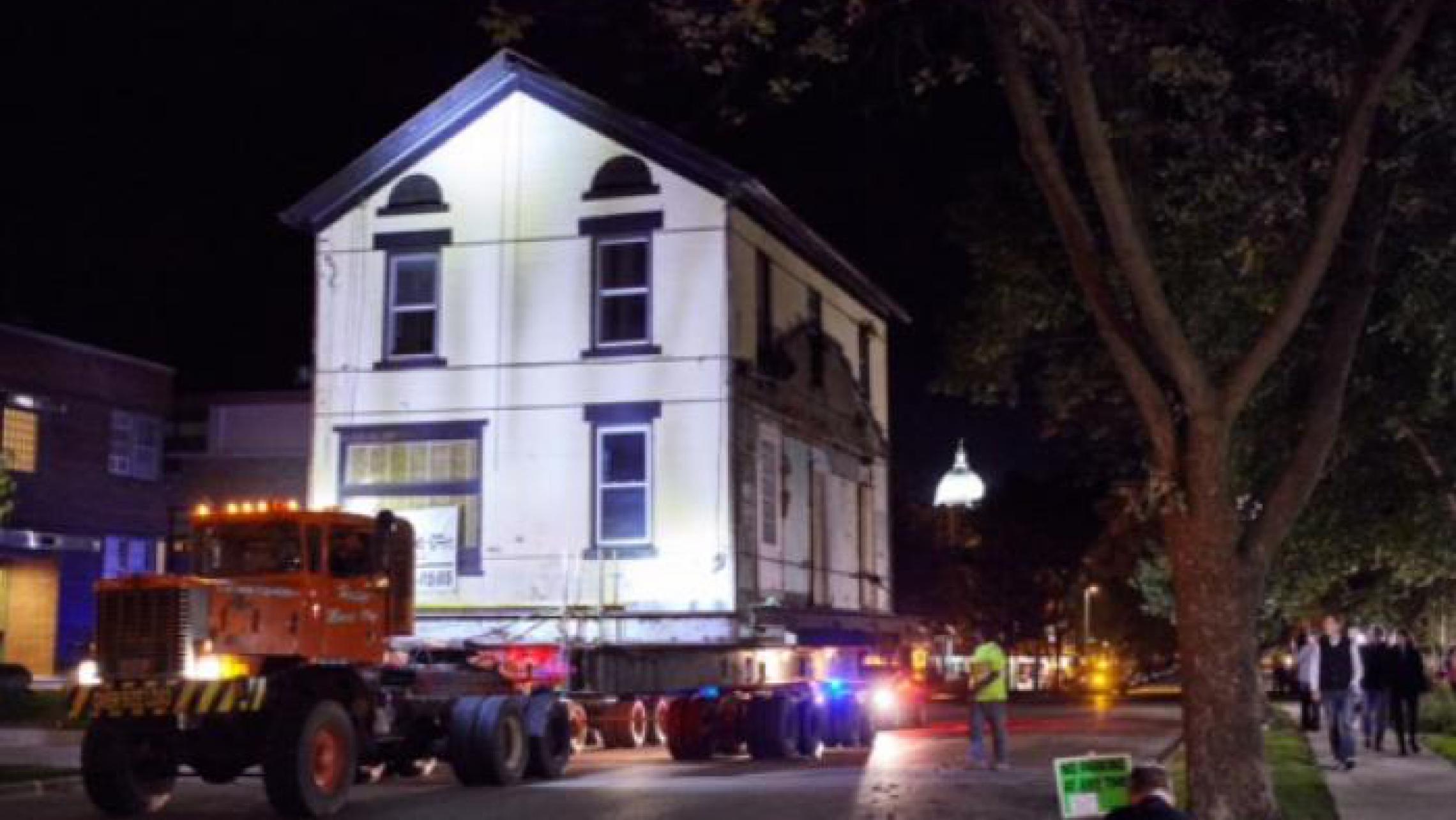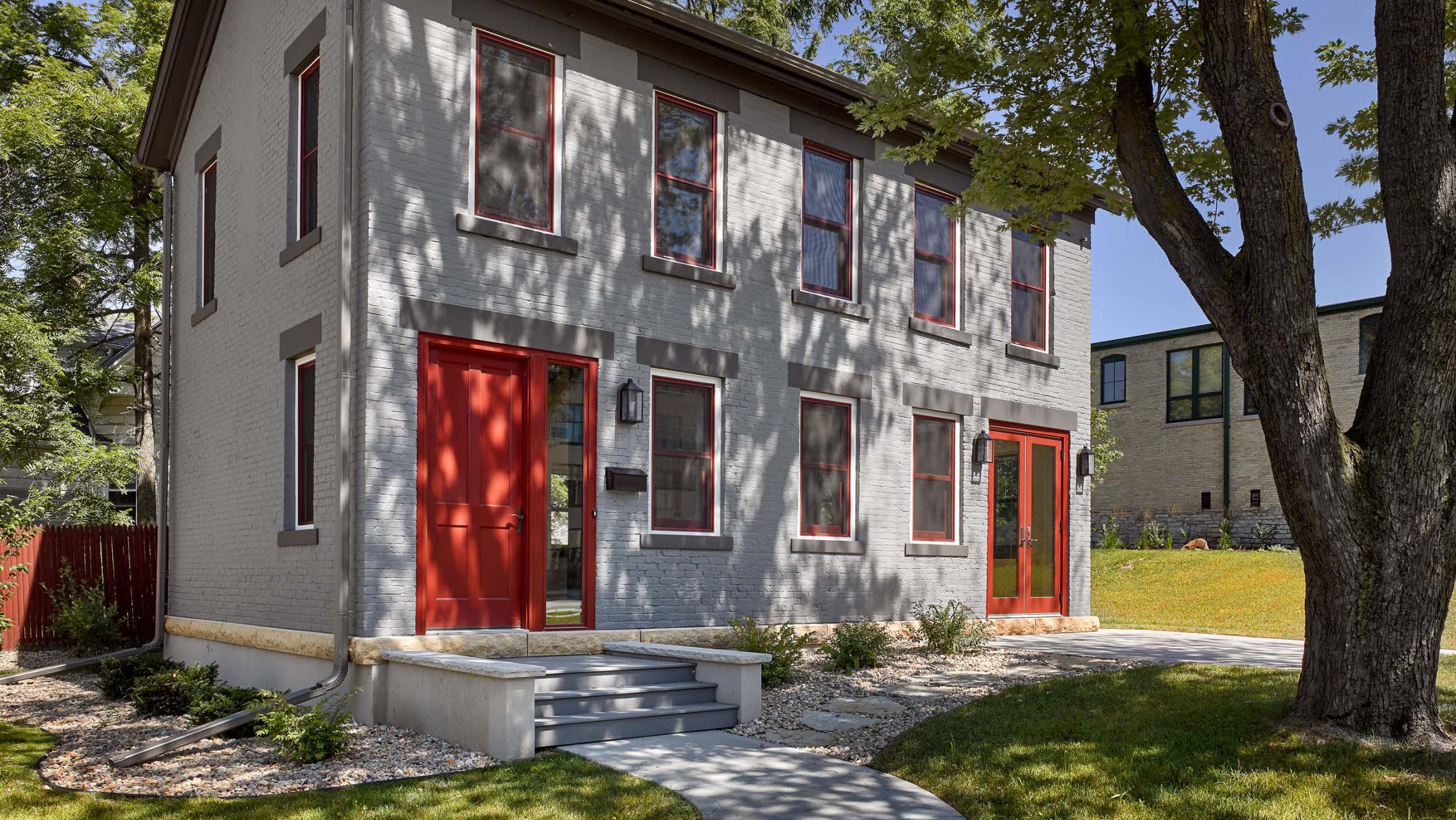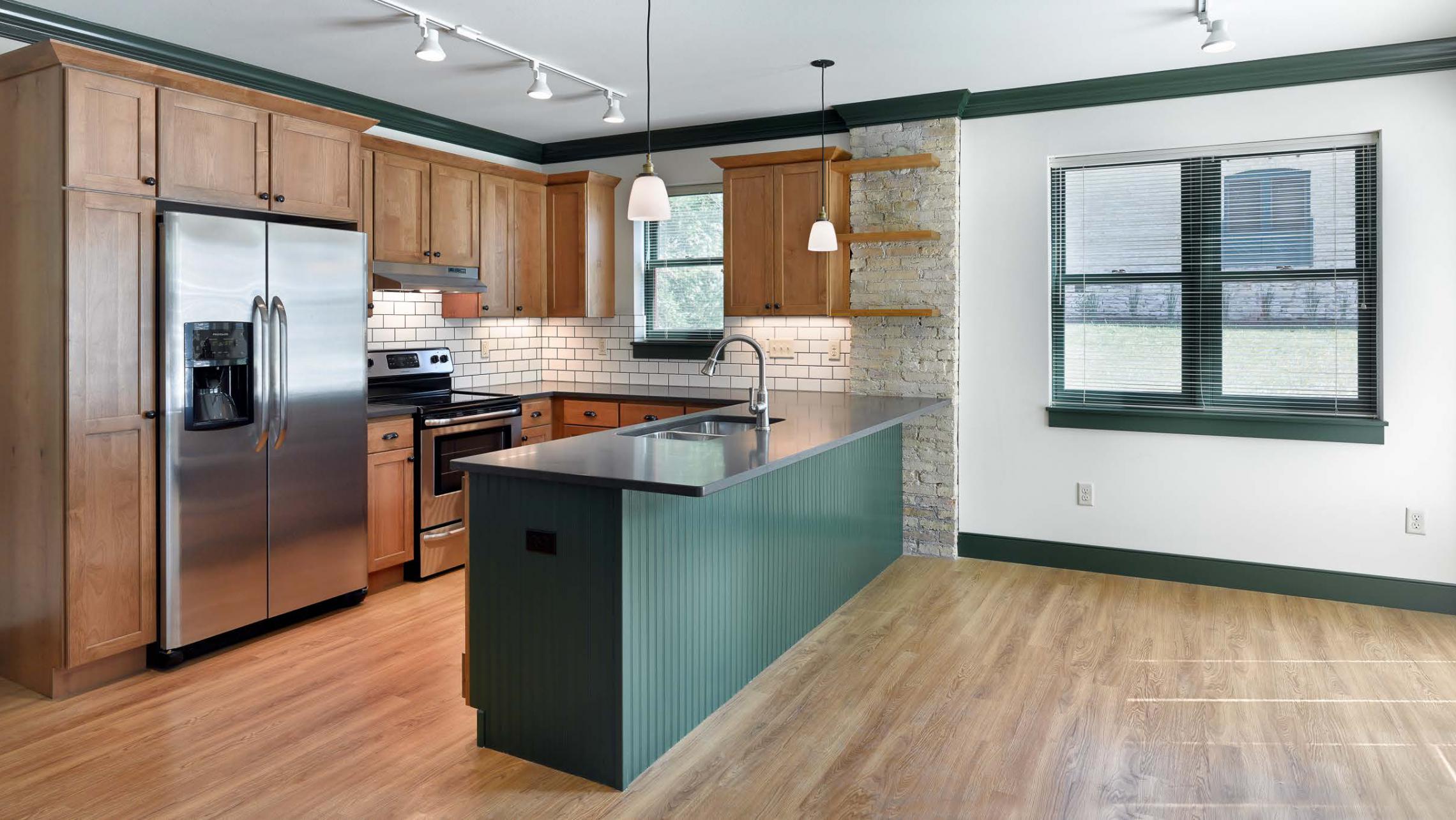 Lannon-Hill Home & Store Relocation and Preservation
In the early hours of Tuesday September 23th 2014, shortly after midnight, while most Downtown and Bassett Neighborhood residents were sound asleep, the Lannon-Hill Home & Store building at the corner of West Main Street and Bassett Street was carefully lifted and transported roughly four blocks to its new residence at 151 Proudfit Street. Urban Land Interests orchestrated this relocation to save the Civil War-era building from demolition. The corner of Main and Bassett is now the site of an 18-unit apartment building with ground floor retail space, constructed by Keller Real Estate Group.
While the Lannon-Hill Home & Store lacked a designation that would legally preserve it from demolition, the building was well maintained by the Keller Group and holds important historical relevance for many Madisonians. Since the1860's, the two story, 1200 square foot building has served Downtown Madison with a variety of purposes, ranging from a grocery store and family home, to a shoe shop, liquor store and most recently a floral boutique and apartment.
ULI recognized the unique opportunity to preserve this historic structure and through collaboration with Bob Keller and city staff, and worked diligently to secure necessary approvals to undertake the move. With financial assistance from Keller Real Estate Group, ULI engaged Heritage Movers as the contractor for the move. Long-time partner, JH Findorff & Son mobilized quickly to prepare the new site to accept the house. Associated Bank provided financing for the project. Morrison Architecture Studio served as architect.
Upon its arrival at The Yards, the building underwent an extensive renovation to transform it into an upscale, two-bedroom, single-family residence. Exterior renovation details include a restored building foundation, new energy efficient windows and roof and masonry repairs. The interior remodel features well-crafted wood cabinetry, quartz countertops, Kohler fixtures, stainless steel Whirlpool appliances, and luxury vinyl plank flooring. Lannon-Hill Home & Store is now professionally leased and managed by Urban Land Interests. Tenants of this unique property enjoy access to ample modern amenities at neighboring SEVEN27 apartments.
Today
Now completed, Lannon-Hill Home & Store joins ULI's growing residential community in the area known as The Yards. The evolving neighborhood includes the historic Tobacco Lofts Apartments, the iconic SEVEN27 Apartments and Nine Line Apartments. The Lannon-Hill Home & Store is now included in the growing list of ULI adaptive reuse projects in Downtown Madison.